Accompanying the European Youth Go Championship 2017 in Grenoble, the TIGGRE (Tournoi International de Go Grenoble) was held simultaneously from 18 to 19 February, also known as the 1st edition of the Ellie Cup. This tournament was sponsored by Hwang In-seong and the
European Yonguseng Dojang
and named after his newborn daughter.
The Ellie Cup is a new tournament through which the well-known top player and ex-insei from Korea, Hwang In-seong 8d, wants to show his gratitude to European players who have assisted him during his stay in Europe. In his own words:
Dear European Go players,
It has been about 10 years since I live in Europe.
I believe that I received a lot of benefits from the European Go world while I stay, so I was looking for a chance to give this favor back.
In the meanwhile, Grenoble Go club organizes the EYGC 2017 and plans to make a big tournament at the same period.
I think it is the best if I sponsor a big tournament. Then top European players can have a chance to play good games, and many of European Go players enjoy watching their games.
It would be a big pleasure if many of top level European players join in this tournament and show their best skills.
I will be in the tournament venue all the time and enjoy this beautiful game together with them.
Hope to see many of you in this great event!
Sincerely yours,
In-seong Hwang
Overall, the 1st Ellie Cup attracted 84 players, including the very best of Europe: Ilja Shikshin 1p, Mateusz Surma 1p, Oh Chi-Min 7d, Kim Seong-Jin 7d, and a handful 6d players...
The presence of EuroGoTV ensured an excellent coverage of the Ellie Cup: You can find tournament pictures on
eurogotv.com
and game records of the top two boards on
KGS
under the accounts
EuroGoTV1 and 2
. The photos used in this article were also provided by Judith van Dam of EuroGoTV.
The tournament consisted of 4 rounds in which the top 16 played a knock-out tournament. The losers join the rest of the tournament participants in the usual McMahon tournament.
Although this system was modelled after the Strasbourg tournament held each year in May, the unique prize system differentiated between 8 prizes for European players (from 150€ to 800€) and 2 prizes for non-Europeans (150€ and 300€) and heavily favoured the former.
In the first round, the top 16 players were matched by fold pairing (i.e. #1 vs. #16, #2 vs. #15, etc.). The European winners of this round were guaranteed one of the prizes.

In round two onwards, the surviving players were paired by Ellie: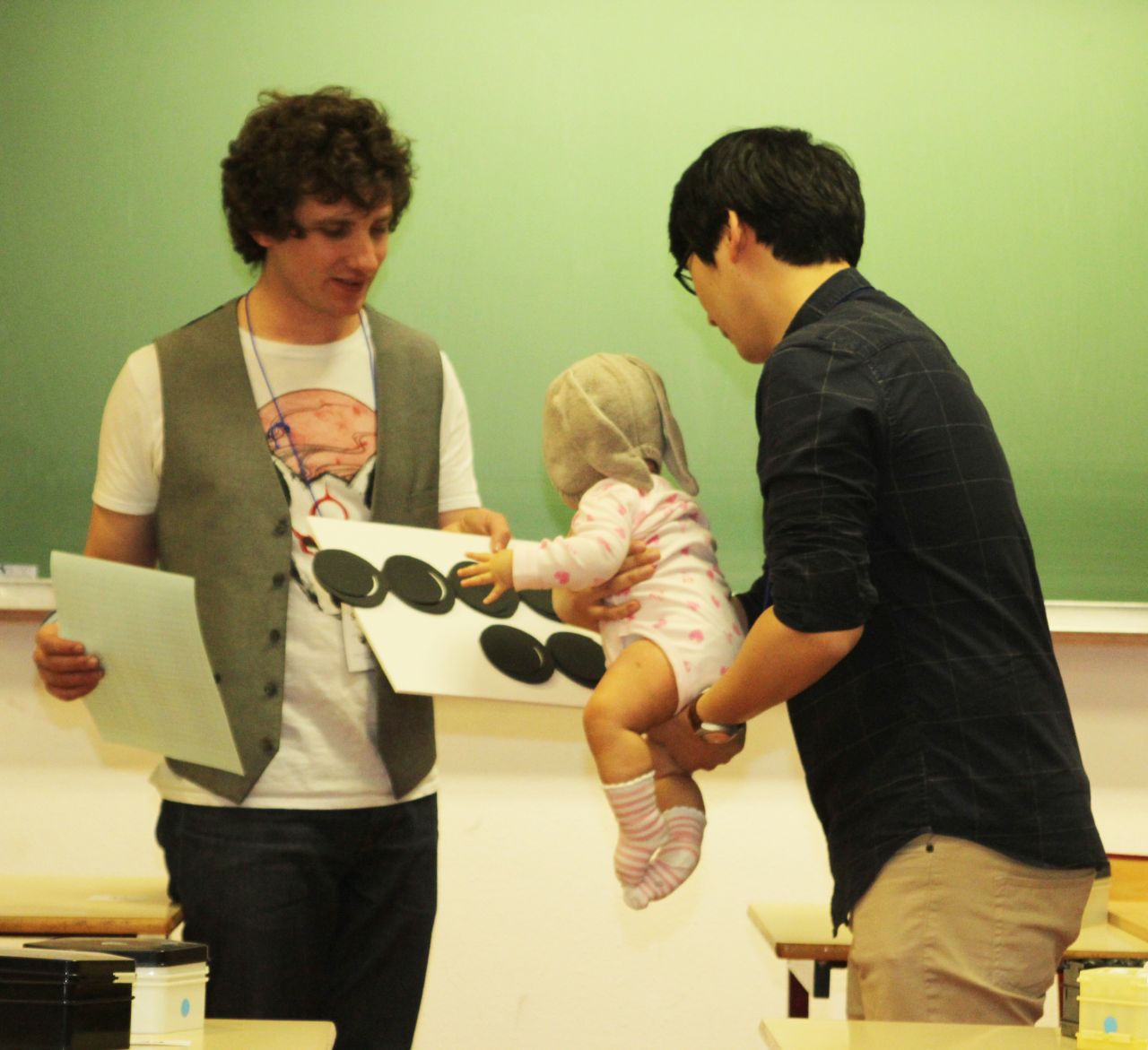 Ellie picked numbers randomly that represented the players' ranking by rating and the pairings were decided by the order in which the numbers were picked.
The four remaining players then decided the 1st to 4th places in the semi-final and final:
1st Oh Chi-Min (1st non-European prize 300€)
2nd Ilja Shikshin (1st Europan prize 800€)
3rd Mateusz Surma (2nd Eur. 500€)
4th Thomas Debarre (3rd Eur. 300€)
5th-8th: Kim Seong-Jin (2nd non-Eur. 150€)
Jonas Welticke (4th Eur. 200€)
Lukas Podpera
Denis Karadaban
The latter two won the European prizes for 5th-8th places (150€ each), joined by Dominik Boviz and Viktor Lin who, after being eliminated in the first round, won their three remaining games.
Surely the peculiar distribution of prizes is In-seong's way to express his gratitude towards European players. However, not only the top players profited from this tournament: Players with four victories (Benjamin Blanchard 3d, Colin Carrere 5k, Sun Lexiang 8k) were rewarded with a 100€ prize.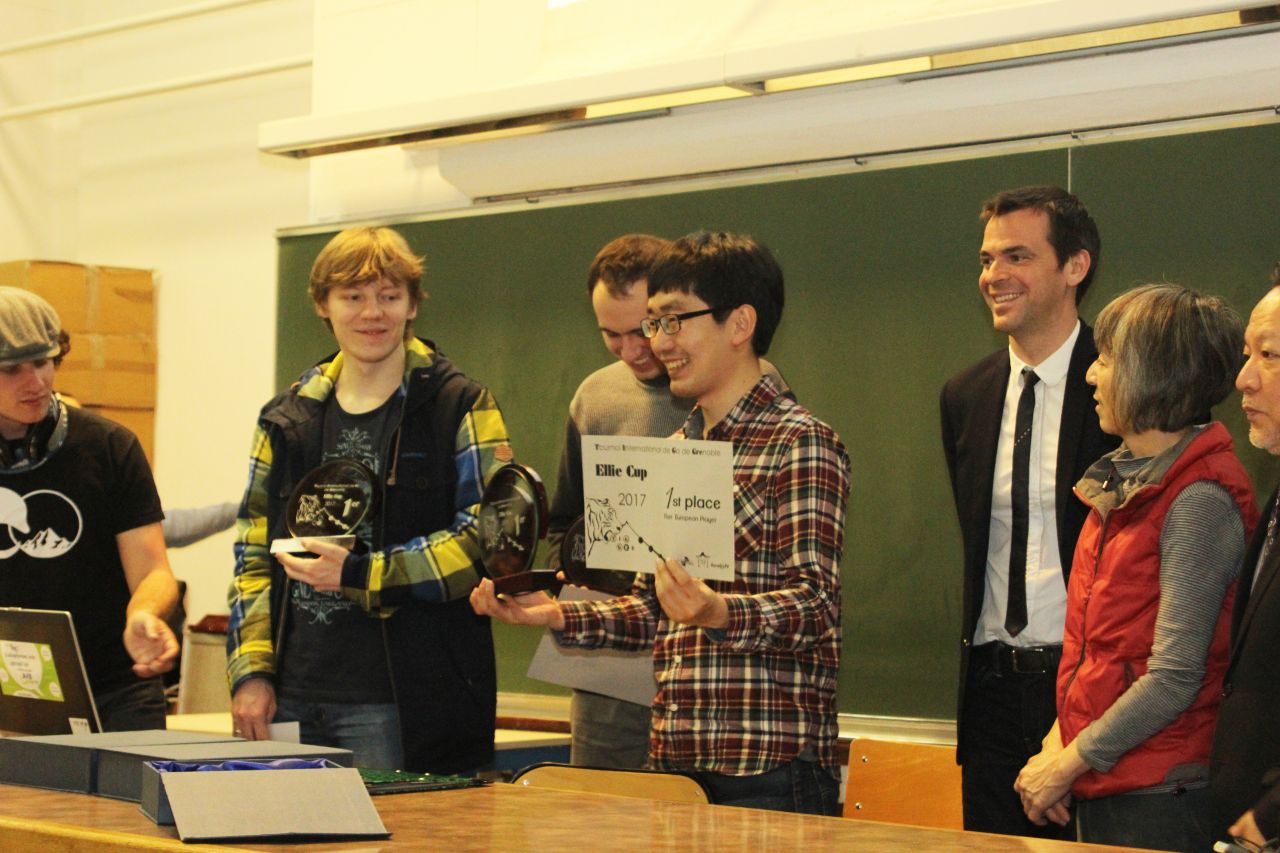 According to tournament organiser and president of Go Club Grenoble Loïc Lefebvre, future editions will probably be held in autumn, to complement the easy-going "
Ze Tournoi
" with a serious TIGGRE tournament in Grenoble!