As reported
here
,
Artem Kachanovskyi 1p
qualified for the 13th Sankei Cup main tournament through the pro preliminaries. The Sankei Cup is a single knock-out tournament with a special pairing in the first round: 16 Professional and 16 amateur players qualified through separate preliminaries, and they are paired against each other, at a handicap of no komi for the pro.
According to the announced pairings on
Kansai Ki-in's homepage
, on
Wednesday 29 March
Artem will play 19-year-old amateur Miyagishi Reimei, a familiar face in Japan's go scene. The round starts at 12:30 Japanese time (05:30 Central European Summer Time) and you can follow the live broadcast
under this link
or by clicking on the last line in the pairing on the homepage.
We wish all the best and good luck to Artem!
UPDATE: Unfortunately, Artem was not able to overcome the handicap of no komi and lost by 0,5.
Let us look back to an era before Euro Go News articles: the 11th Sankei Cup pro preliminaries in 2014. This was the first time foreign go players were invited to this tournament by the Kansai Ki-in, and also the first pro tournament for the new EGF pros
Pavol Lisy 1p
and
Ali Jabarin 1p
.
While both Europeans were eliminated in the preliminaries, they did not go down without resistance and left a deep impression on the Japanese go community. (This was reported on
EuroGoTV
.)
The fighting spirit displayed in one of the games was even commended by
WeiqiTV
:
In the first round, Pavol made a perhaps unlucky draw and was paired against the holder of Japanese titles and one of Japan's top players Yuki Satoshi 9p. At this point of the game, Pavol (Black) was behind by quite the margin – rather expectedly, facing such a powerful player. The marked pushes are criticised for having been played in the wrong direction. This largely contributed to Black's disadvantage.
At this moment, White (Yuki 9p) decided to invade Black's territory by attaching inside.
According to White's plan, he could connect underneath, destroying some of Black's points and strengthening his adjacent group at the same time.
In hindsight, White probably should have simply bumped against a stone and taken another large point on the board...
...for Pavol did not miss the opportunity to retaliate and take the stone on the second line.
Yuki was completely caught offguard, but little can he do against Black's combination of cutting and keima.
White is forced to play two consecutive bad shapes in order to avoid a total collaps and tighten Black's liberties.
With the next move, if Black had carelessly extended, the previous effort would have been made in vain. White can connect underneath, albeit barely. If Black extends at A, White can push out at B due to the marked liberty White took beforehand.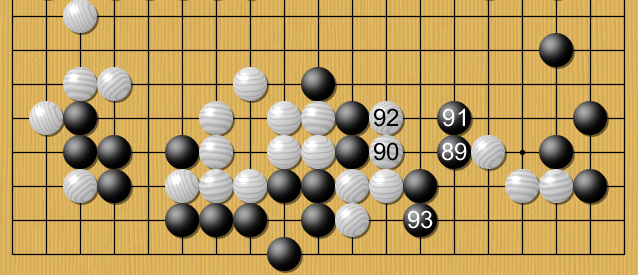 Black's kosumitsuke was the crucial move. Starting from White's attachment 64 up to Black's descent 93, White only superficially destroyed Black's territory. While White constructed some points in the centre to compensate the loss of his own territory, its value is overwhelmed by the ~20 points Black obtained by swallowing White's 3 stones.
This formidable outburst of fightint spirit was praised and specially mentioned on WeiqiTV, the
source
for this commentary. Pavol had turned a glaring disadvantage into an unclear game. It is regrettable that he did not manage to hold onto the flow of complications and finally lost by 8,5.
Full kifu:
Meanwhile, Ali had quietly defeated Saito Tadashi 8p, also by 8,5. It seems that Ali achieved a complete victory without doing anything special. Perhaps Saito was nervous and let Ali enclose too much of the centre.
Thus Ali advanced to the second and final preliminary round and played Nakano Yasuhiro 9p, a player of a class that is able to hold a candle to pros of Yuki Satoshi's calibre. After fighting back from the opening, Ali eventually built up a slight lead after middlegame. This was also the first time the organisers took into account the possibility of a foreigner advancing to the main tournament. However, just as the tournament staff started discussing the official procedures thereof, Ali's inexperience made his advantage trickle away in endgame and ultimately the game finished with Nakano's victory by 3,5. It would be another year that a foreigner, AGA pro Andy Liu 1p, passed the preliminaries in 2015 and qualified to the Sankei Cup main tournament.