Below you can see an excerpt from an interview with Jan Šimara, Europe's newly-certified 1- dan professional. The complete article in the March 2023 edition of the European Go Journal includes the full story of his career as a go player, his impressions of participating in the recent Professional Qualification, intentions for the future and much more.

---
Jan Šimara reached the top of the European go scene in 2012, when he defeated Ilya Shikshin, at that time 7-dan, in the final of the European Championship. I remember Jan from that period as a very tall guy with an unusual, influence-oriented style. Like many young and strong European players, he also enjoyed partying after a hard tournament day. Soon after the 2012 European Championship, Jan took a long break – I started to notice him in tournaments again only recently.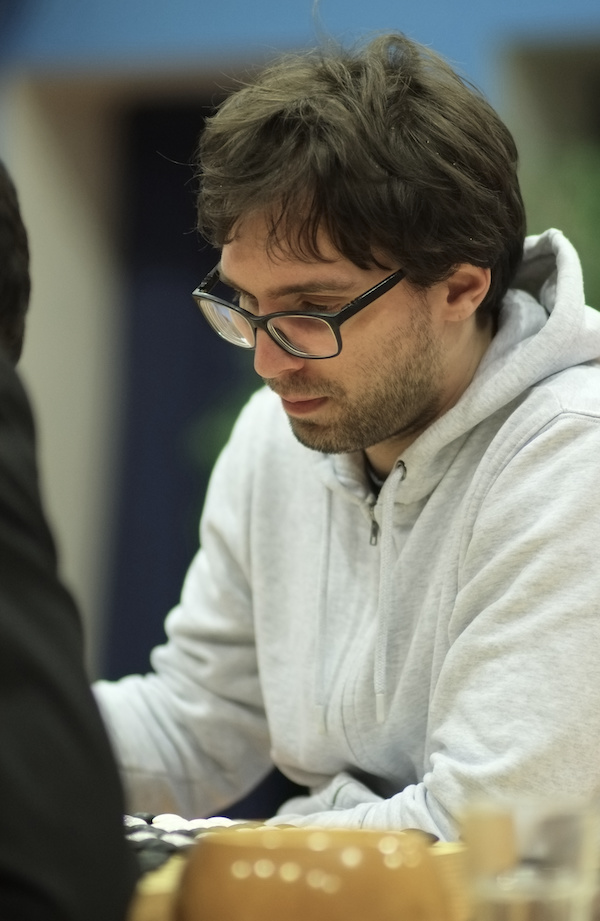 This month Jan made a next impressive step in his career – he won the 7th European Professional Qualification held in his home country of Czechia, and was thus promoted to 1-dan professional by the EGF. I thought that this is a great occasion to learn more about Jan and to ask him a few questions. Enjoy his interview below!
---
Artem:
How did you get into go in the first place?
Jan:
Like many other go players, I came to go through chess. When I was about thirteen years old, I was at a summer chess camp just for young players of our city club, which was attended by a small group of go players. As soon as I tried to play go there, I immediately fell in love with it. I couldn't really concentrate during my chess practice since I was solving various trivial go shapes in my head, and during the breaks I would quickly run off to play go.
I hardly played in the first two or three years after that, although I played two tournaments shortly after the camp and instead of chess training. I started going to a go club, but my chess coach soon intervened and convinced me that go did not offer much of a future compared to chess. Of course, I don't blame him at all because it made perfect sense from his point of view. I suppressed go in my mind and went back to chess.
Finally, when I started high school around the age of sixteen, all of a sudden go popped up in my mind and I decided to visit the go club once again. It didn't take much time until I was fully hooked and there was nothing that could change my mind.
Artem:
How do you feel about your promotion to 1-dan professional?
Jan:
It was very a controversial feeling, especially in the first moments and days after I won the final game. I somewhat cheered for Lukáš the whole time because I think he really lives for go, he makes a profession out of it and is very strong indeed. So, there was a sense that he deserved it. But competitions do not work like that, you have to win the vital games. The sadness from missing his fourth pro qualification final was immense and I actually shared it with him. When I woke up the next day, I was sort of depressed. Also I didn't feel that I am strong enough to be a pro. I said to myself, "I just came to play some good games, not really expecting to win the whole thing!". Anyway, after a few days I decided that instead of feeling somehow "unworthy" I will instead enjoy myself and take this as an opportunity to restart: I will do my best to spend more time with go. Negative feelings never make anything productive, so I wish that Lukáš is able to transform the pain into power. In Czech we have a proverb: "What doesn't kill you, makes you stronger".
Artem:
How would you describe your playing style?
Jan:
I think I tend to have influence; when I just have territory without any prospects to grow, I don't feel good about the game, even if AI says it's even. I think it reflects my nature in general, I like to have options to make something bigger or just advance into interesting possibilities.
Artem:
Do you have a favorite professional go player?
Jan:
Recently I haven't had any specific favorite player. Since the arrival of AI it feels to me that there is a bit less space to play an authentic style, so I just follow the strongest players. In the past I remember I was a big fan of Gu Li in his prime.
Artem:
Thank you for your time, Jan! I sincerely wish that you reach more exciting achievements in your go career. I hope your new professional status will motivate you to play your best and continue bringing joy to go fans in Europe and beyond.