The 23rd European Youth Go Championship has already finished. All the participants and the organizers are now back at home, well rested and full of strength. So, it's time to make some conclusions and share some impressions of the event.
Kyiv welcomed her guests with snow and cold weather, which is quite unusual for the end of March. By way of contrast, the Kyivan Palace of Children and Youth provided all visitors with warmth and was filled with go atmosphere. The event started with a go Workshop: lectures, simultaneous games, and problem solving from top Ukrainian dan players lead by Kachanovskyi Artem, 1 pro.
Then the main forces arrived: 208 youngsters from 18 countries, which is pretty impressive. They competed in 3 groups:
U12 – 99 children from 9 countries – a record by quantity;
U16 – 72 children from 12 countries – one of the highest totals;
U20 – 37 participants from 14 countries – a record for the diversity of countries represented.
Some children fought to win prizes, some to improve their rank and rating, and some just had fun and met new friends. Such huge international events give a unique opportunity to meet new people, and for players, coaches and parents to exchange experiences.
There were many volunteers in yellow T-shirts, who eagerly helped players and their relatives with general issues. The Referee team was wearing green T-shirts: their aim was to maintain discipline in the playing area, record game results and so on. In case of any difficult situations chief referee Volodymyr Korsak helped them.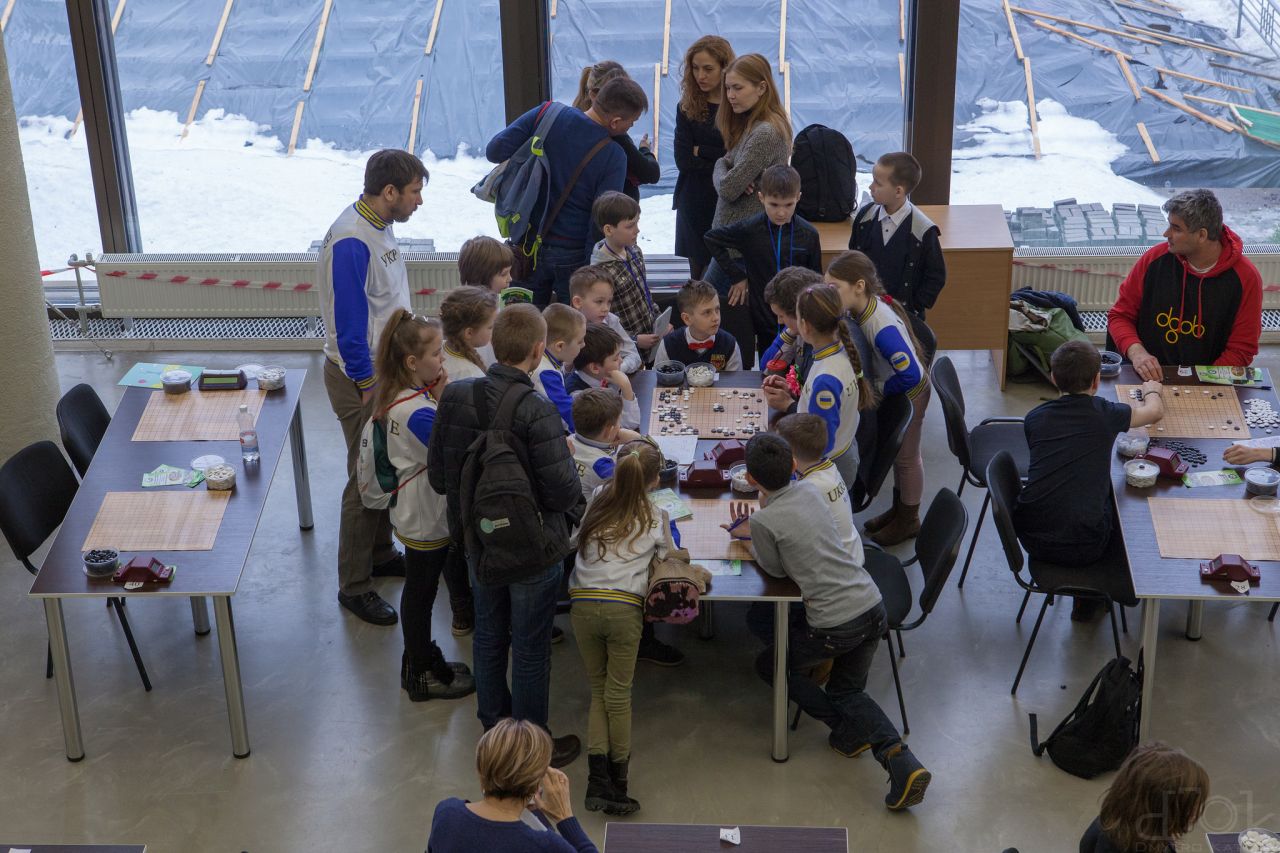 Organizers tried to do their best to allow both concentration on the go board and relaxation away from it. Anyone could ask for games analysis by Kravets Andrii, 1 pro, and Kachanovskyi Artem, 1 pro, during the tournament. As well, an artisan workshop, trips to the indoor water park, and sightseeing in the city which has more than 1500 years of history were available. Also all the visitors could watch two magnificent movies: "The Surrounding Game" by Will Lockhart and "AlphaGo" by Greg Kohs.
Fantastic shows for the opening and closing ceremonies were prepared by youngsters from KPCY's circus studio. Children from "Yunpress" agency were circling around taking interview, shooting video, taking pictures. But the best pictures were made by Dmytro Kataiev, a talented photographer and go player, – see them
in his Flickr gallery album
.
The struggle for the prizes was desperate. Everyone did their best on the go board, and as a consequence some unpredictable results happened. That is why additional criteria were applied to define who prizewinners were. The final standings are displayed on the image below made by
Go in Ukraine group
.
Our greetings to the young go champions of 2018!
Full results are in the EGD:
U12
,
U16
,
U20
.
Those, who were far from the event, could keep track of the top board contests through the internet, as the first board from each group was broadcast on KGS.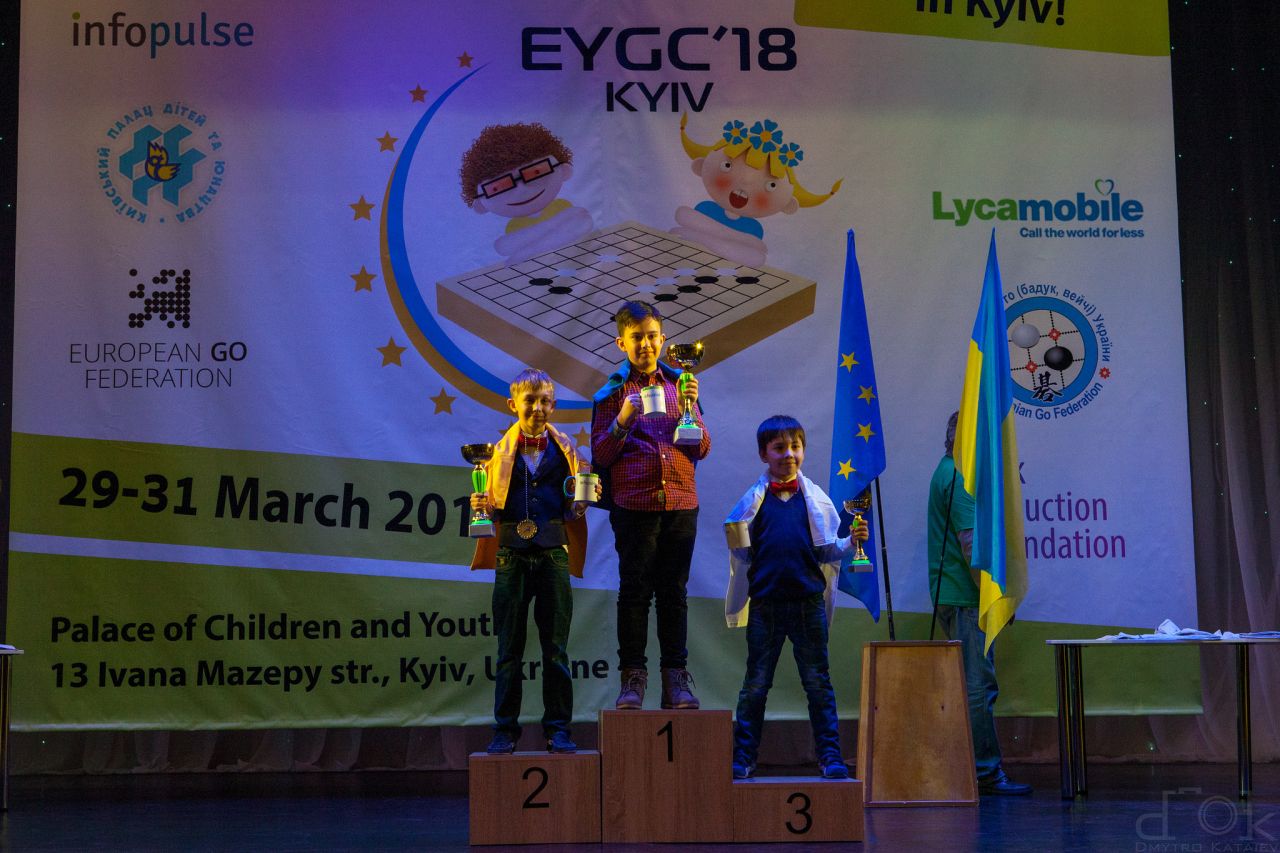 One more important thing was done. During the closing ceremony – a draw for the hosts of the 2018 World Youth Go Championship was made. This year it will be hosted by Germany and will be held on July 18-23 in Stahleck Castle in Bacharach. So the following children are invited to attend WYGC'18: Bugaj Antoni (Poland), Malko Olesia (Ukraine) and Gimadiev Artur (Russia) in the U12 category; Zemor Solal (France), Krajnov Anton (Russia) and Galunov Jakov (Israel) in the U16 category.
The 23rd European Youth Go Championship was organized by the Ukrainian Go Federation with support from the Ministry of Youth and Sport of Ukraine, Youth and Sports Department of Kyiv City State Administration, Lycamobile Ukraine, Infopulse Ukraine LLC., Risk Reduction Foundation, Kyivan Palace of Children and Youth.
We are extremely grateful to all our volunteers, referees, coaches, participants and their relatives for the benevolent atmosphere, fair and competitive play! Hope to see you next time!
By Yuliia Krotovych
Vice-President of UFGO
President of KFGO