European Professional Online Go League. Season 2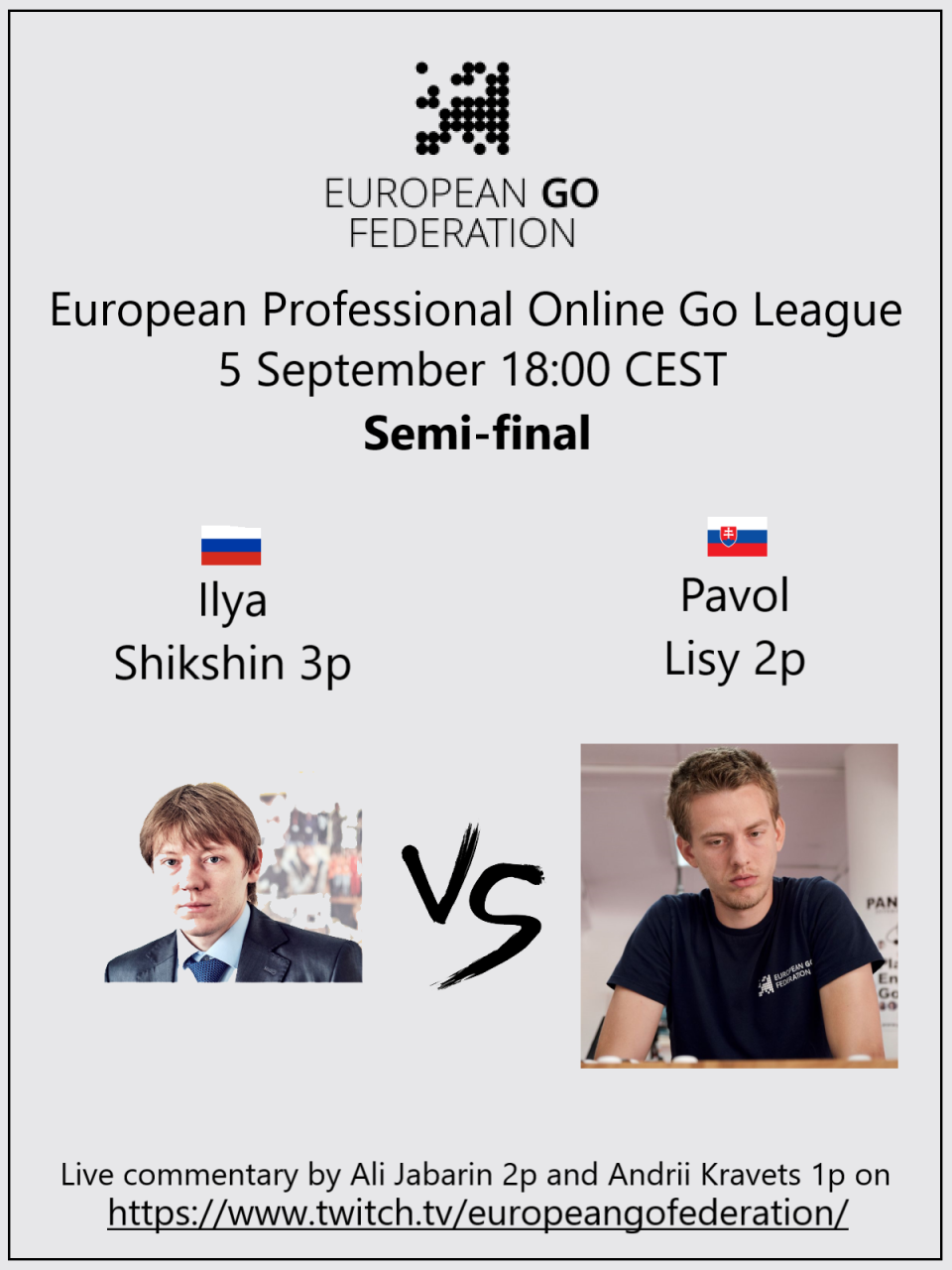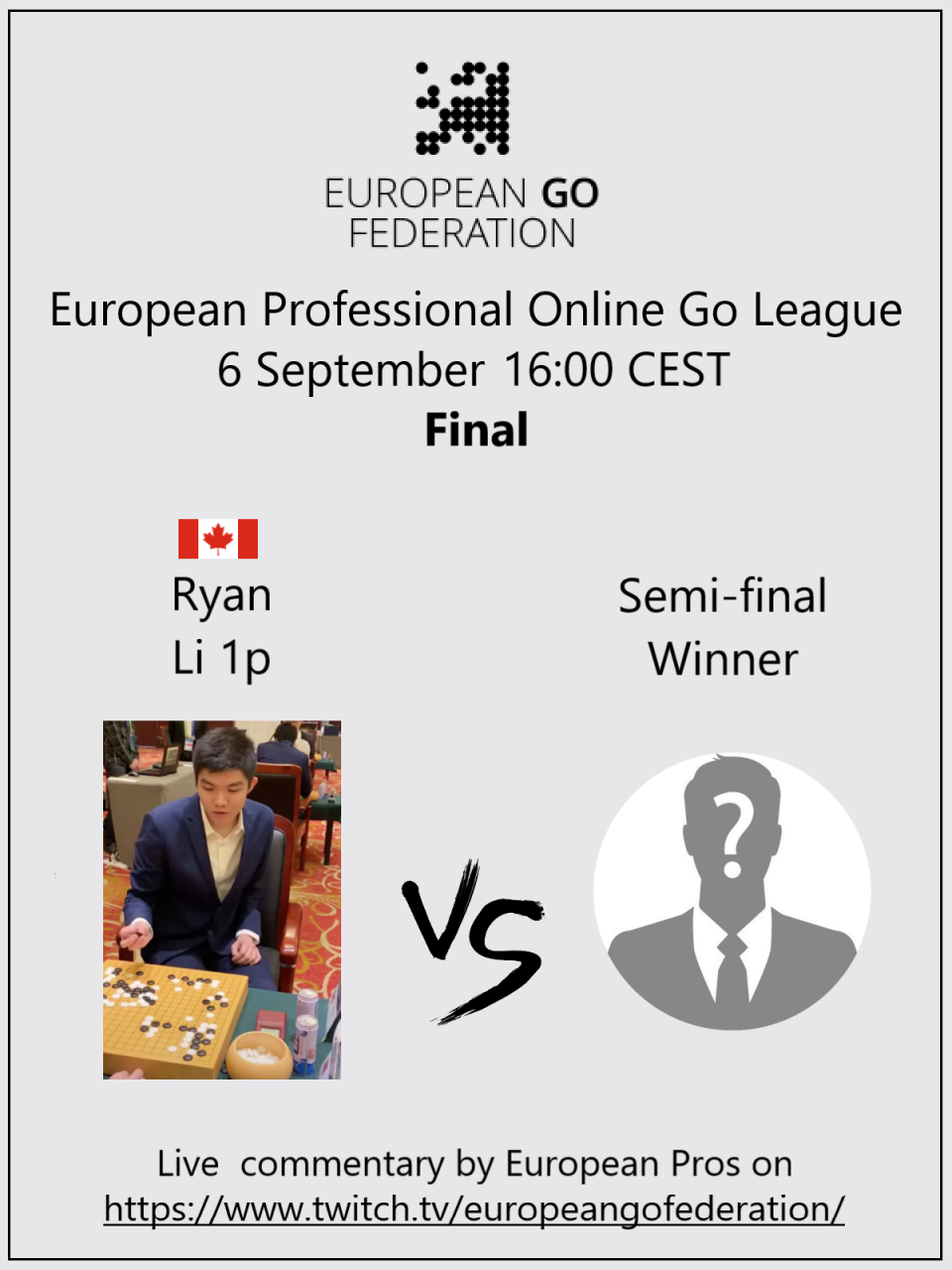 Starting from 20 June 2020, the
EGF professionals
plus one American professional will play in an online league at
https://online-go.com
every Saturday and Sunday at 18:00 CET/CEST.


One match is played per day: a single pair of participants will play a match in BO3 format (best of three) - switching colours in the second game, and playing the third game in case if 1 - 1 score in the first two games. Another participant will comment these games live on the
EGF Twitch channel
.
You can support the League financially at the
League Patreon page
.
Starting from the second season, all the videos of the live commentaries can be viewed at the
League YouTube channel
.
To receive all the announcements and news, follow
League Facebook page
.


Organizers:
European Professional Committee.
Tournament system:
Round-robin, "best of 3" in each match (2 games with alternating colors, third game in case of 1 - 1 score in the first two games).
Time control:
10 minutes basic time, with byo-yomi of 30 seconds per move with three periods.
Tie-breaker:
SODOS, win-loss difference, mutual game, additional games.
Final format:
players who take 2nd and 3rd place play a match. The winner of the match meets the winner of the League in the Grand Final.
Prize money:
1st place: 500
€, 2nd place: 200 €, 3rd place: 100 €.
Sponsors and partners:


Country
Name
Rank
IS
ArK
PL
AJ
AnK
TC
RL
Score
SODOS
Place
Ilya Shikshin
3p
W+R
B+R

B+R




W-R




W-R

B+7.5


W-R
B+R
B+R


W-R




B+R

B+R
W+16.5

B-R




W-R

4
7
III

Artem Kachanovskyi

2p
B-R
W-R
B+R
W-R
B-R
B-R
W+R
W+R
W+R
B+R
W+R
B+R
W-R
B-R
3
4
IV
Pavol Lisy
2p

W-R


B+R


B+R

W-R
B+R
W+R

W+R




B+8.5

B-12.5
W-3.5

B-5.5


W+8.5
B+R

B-6.5




W+4.5




B-24.5

4
9
II
Ali Jabarin
2p
W-7.5


B+R


W-R
W+R
B-R
B-R
B-R
W-8.5
B+10.5
W-R
W+R

W+R




B-R




B-R

W+R
B-R
B-12.5
1
2
VI
Andrii Kravets
1p

W-R




B+R




W-R

B-R


W-R
W+12.5
B+3.5
W-10.5
B+R
B-R

W+R


B-R
W+2.5
W-T
B-R
2
5
V
Tanguy le Calve
1p
W-R
B-16.5
B-R
W-R
W+5.5
B-8.5
W-R

B-R




W+R




W+R

B-R
W+R
B-2.5
B-R
W-R
1
1
VII
Ryan Li
1p

W+R




B+R

B+R
W+R
W+6.5
B-4.5


W+24.5

B-R
W+R




W+12.5

B+T
W+R
W+R


B+R

6
15
I

Semi-final:

Ilya Shikshin 3p
vs
Pavol Lisy 2p
Ilya
W+R
, Ilya
B+R
,
Ilya won 2-0
Final:

Ryan Li 1p
vs
Ilya Shikshin 3p
Ryan
W+R
, Ryan
B+4.5
, Ryan
W-R
, Ryan
B+R
,
Ryan won 3-1
Past seasons:

Season 1 (21 March 2020 - 17 May 2020)