11th World Student Oza
26th - 27th February 2013
Sponsored by Nihon Keizai Shimbun, Inc
The 11th World Students Go OZA Championship was held again in Tokyo. The organizers of the tournament were: The All-Japan Students Go Association, Nihon Keizai Shimbun Inc and Pandnet Inc in co-operation with The Nihon Ki-in and The International Go Federation.
As usual qualifying for the European players (and other non-Asians) was by a tournament held online on Pandanet in Autumn 2012.
The European players who qualified this year were Antti Tormanen (6d) from Finland, Dusan Mitic (6d) from Serbia and Laura Avram (2d) from Romania. Of these Antti Tormanen, managed to finish in the top 3 at this tournament and the best European result yet.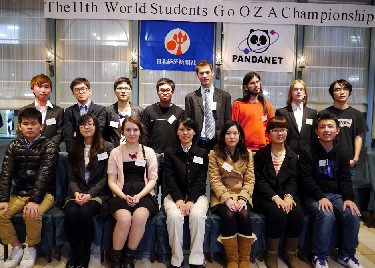 Final Placings
Pl
Name
Country
R1
R2
R3
R4
Wins
SOS
1
Kim Youwhan
Korea
+3
+7
+6
+2
4
10
2
Su GuangYue
China
+12
+11
+4
-1
3
10
3
Antti Tormanen
Finland
-1
+13
+9
+7
3
9
4
Go Risa
Japan
+15
+8
-2
+6
3
8
5
Lo Sheng-Chieh
Chinese Taipei
+13
-6
+14
+8
3
7
6
Chae Hyunji
Korea
+14
+5
-1
-4
2
11
7
Lin Hung-ping
Chinese Taipei
+9
-1
+12
-3
2
10
8
Maojie Xia
USA
+10
-4
+11
-5
2
10
9
Dusan Mitic
Serbia
-7
+10
-3
+12
2
8
10
Ouyang YiZhuo
China
-8
-9
+13
+15
2
6
11
Yanagida Tomoya
Japan
+16
-2
-8
+14
2
6
12
Nuttakrit Taechaamnuayvit
Thailand
-2
+15
-7
-9
1
8
13
Laura Avram
Romania
-5
-3
-10
+16
1
8
14
Zhang Xiang
Singapore
-6
+16
-5
-11
1
6
15
Leonardo Sepulveda
Chile
-4
-12
+16
-10
1
6
16
Ho Lam Tsang
Australia
-11
-14
-15
-13
0
5