12th World Student Oza
25th - 26th February 2014
Sponsored by Nihon Keizai Shimbun, Inc
The 12th World Students Go OZA Championship was held again in Tokyo, at the Ginza Internet Forum. The organizers of the tournament were: The All-Japan Students Go Association, Nihon Keizai Shimbun Inc and Pandnet Inc in co-operation with The Nihon Ki-in and The International Go Federation.
As usual qualifying for the European players (and other non-Asians) was by a tournament held online on Pandanet in Autumn 2013.
The European players who qualified this year were Bogdan Zhurakovskyi (5d) from Ukraine, Viktor Ivanov (4d) from Russia and Yanqi Zhang (6d) from France. Of these, Viktor Ivanov won two games to take 9th place.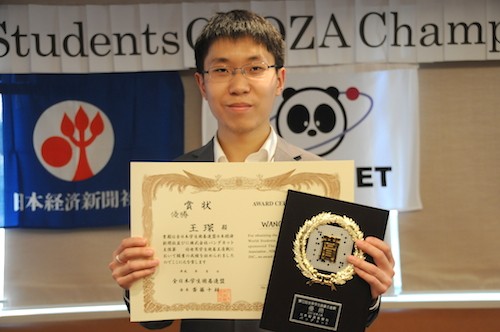 Final Placings
| | | | | | | | |
| --- | --- | --- | --- | --- | --- | --- | --- |
| Pl | Name | Country | R1 | R2 | R3 | R4 | Wins |
| 1 | Wang Chen | China | +14 | +2 | +4 | +3 | 4 |
| 2 | Yamikumo Tsubasa | Japan | +13 | -1 | +9 | +6 | 3 |
| 3 | Chung Chen-En | Chinese Taipei | +10 | +12 | +7 | -1 | 3 |
| 4 | Go Risa | Japan | +16 | +6 | -1 | +7 | 3 |
| 5 | Hu Shih-yun | Chinese Taipei | -6 | +16 | +13 | +8 | 3 |
| 6 | Maojie Xia | USA | +5 | -4 | +12 | -2 | 2 |
| 7 | Kim Jaerin | Korea | +9 | +11 | -3 | -4 | 2 |
| 8 | Zhou Shiying | China | -12 | +10 | +11 | -5 | 2 |
| 9 | Viktor Ivanov | Russia | -7 | +15 | -2 | +13 | 2 |
| 10 | King Man Kwan | Chinese Hong Kong | -3 | -8 | +16 | +12 | 2 |
| 11 | Lee Woong | Korea | +15 | -7 | -8 | +14 | 2 |
| 12 | Zhang Yanqi | France | +8 | -3 | -6 | -10 | 1 |
| 13 | Bogdan Zhurakovskyi | Romania | -2 | +14 | -5 | -9 | 1 |
| 14 | Kai Kun Xie | New Zealand | -1 | -13 | +15 | -11 | 1 |
| 15 | Thiago Shinji Shimada Ramos | Brazil | -11 | -9 | -14 | +16 | 1 |
| 16 | Nissavara Punyarit | Thailand | -4 | -5 | -10 | -15 | 0 |