13th World Student Oza
24th - 25th February 2015
Sponsored by Nihon Keizai Shimbun, Inc
The 13th World Students Go OZA Championship was held again in Tokyo, at the Ginza Internet Forum. The organizers of the tournament were: The All-Japan Students Go Association, Nihon Keizai Shimbun Inc and Pandnet Inc in co-operation with The Nihon Ki-in and The International Go Federation.
As usual qualifying for the European players (and other non-Asians) was by a tournament held online on Pandanet in Autumn 2014.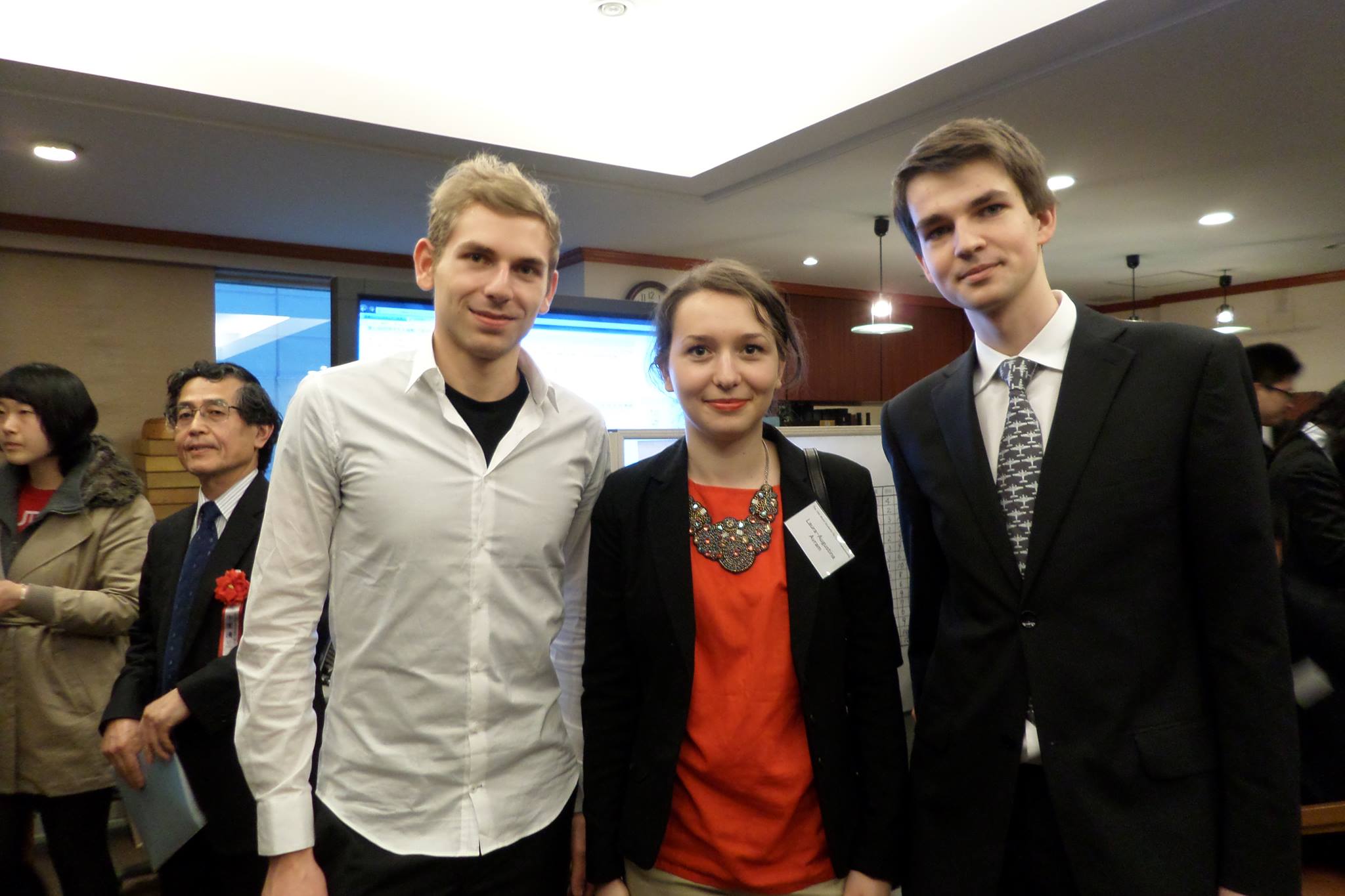 The male European players who qualified this year were Bohdan Zhurakovskyi from Ukraine and Fredrik Blomback from Sweeden, but they could not take part. So Jonannes Obenaus (5d) from Germany and Petr Kouba (2d) from Czechia too part along with female representative Laura Avram (3d) from Romania. Of these, Jonannes Obenaus won two games to take 8th place.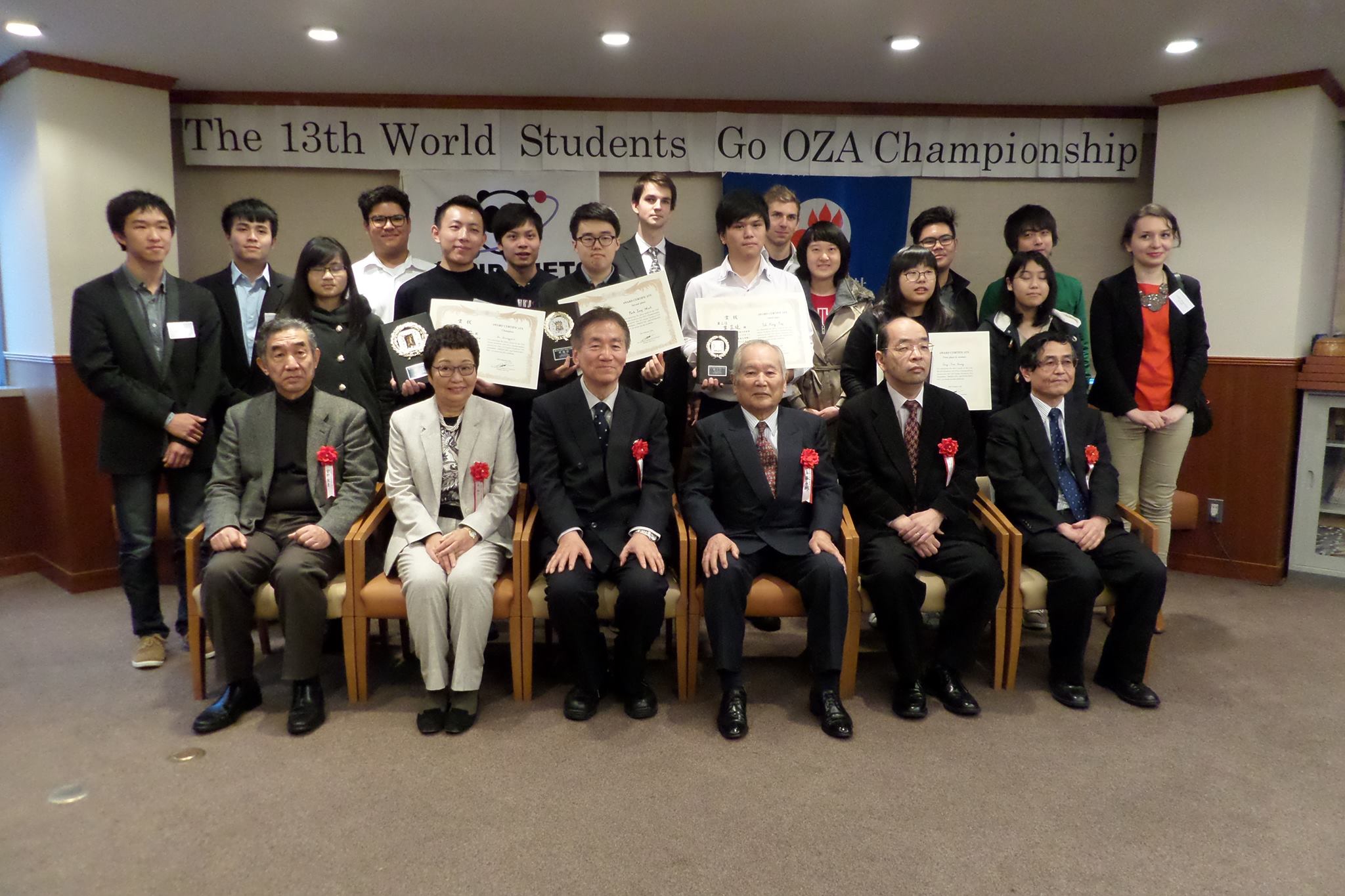 Final Placings
| | | | | | | | |
| --- | --- | --- | --- | --- | --- | --- | --- |
| Pl | Name | Country | R1 | R2 | R3 | R4 | Wins |
| 1 | Su Guangyue | China | +8 | +12 | +2 | +3 | 4 |
| 2 | Park Jong Wook | Korea | +9 | +10 | -1 | +6 | 3 |
| 3 | Yeh Kang-Ting | Chinese Taipei | +13 | +7 | +6 | -1 | 3 |
| 4 | Jang Yun Jeong | Korea | +15 | -6 | +10 | +7 | 3 |
| 5 | Cheuk Leung Lee | Chinese Hong Kong | -7 | +14 | +13 | +9 | 3 |
| 6 | Niwa Junya | Japan | +14 | +4 | -3 | -2 | 2 |
| 7 | Tsukada Karin | Japan | +5 | -3 | +12 | -4 | 2 |
| 8 | Johannes Obenaus | Germany | -1 | +11 | -9 | +12 | 2 |
| 9 | Zhu Haichen | America | -2 | +16 | +8 | -5 | 2 |
| 10 | Yao Jiahui | China | +16 | -2 | -4 | +13 | 2 |
| 11 | Ke Yi-Ning | Chinese Taipei | -12 | -8 | +14 | +15 | 2 |
| 12 | Chidsanupong Jangmark | Thailand | +11 | -1 | -7 | -8 | 1 |
| 13 | Kai Kun Xie | New Zealand | -3 | +15 | -5 | -10 | 1 |
| 14 | Petr Kouba | Czechia | -6 | -5 | -11 | +16 | 1 |
| 15 | Thiago Shinji Shimada Ramos | Brazil | -4 | -13 | +16 | -11 | 1 |
| 16 | Laura Avram | Romania | -10 | -9 | -15 | -14 | 0 |