8th World Student Oza
2nd - 3rd March 2010
Sponsored by Nihon Keizai Shimbun, Inc
In March 2010 the Nikkei Newspaper sponsored the eighth World Student Oza, held at the Ginza Internet Forum in Tokyo. 16 students were invited to take part, both male and female.
Qualifying for the European players (and other non-Asians) was by a tournament held online on Pandanet in autumn 2009.
Unfortunately one of the European representatives, Jan Simara from Czechia, was ill and could not take part.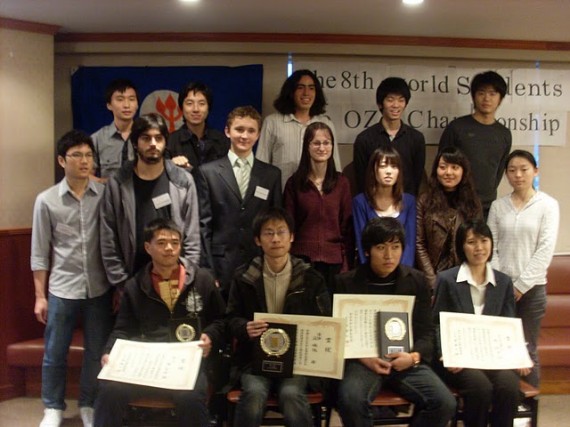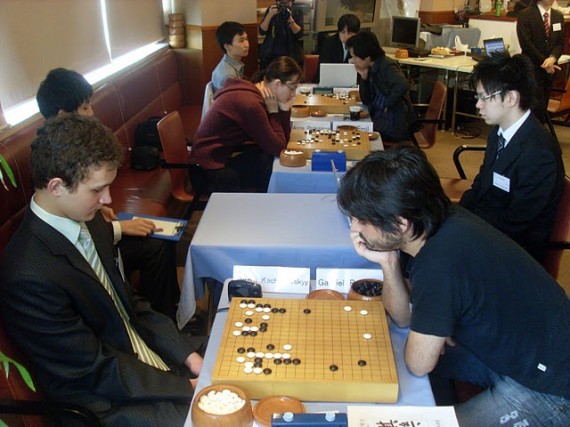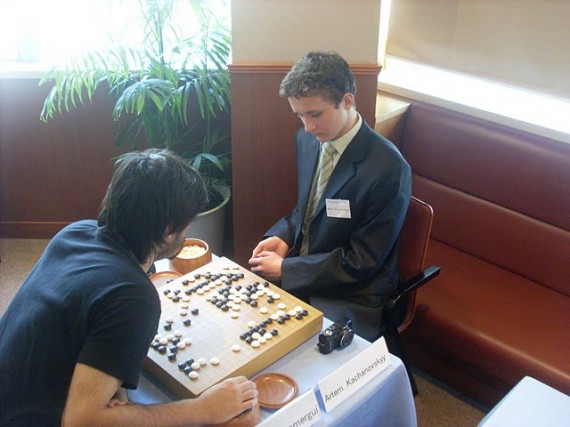 Final Placings
| | | | | | | | |
| --- | --- | --- | --- | --- | --- | --- | --- |
| Pl | Name | Country | R1 | R2 | R3 | R4 | Wins |
| 1 | Meng Xiao-Long | China | +8 | +4 | +6 | +2 | 4 |
| 2 | Seo Yutae | Korea | +12 | +13 | +3 | -1 | 3 |
| 3 | Yamamoto Takunori | Japan | +15 | +9 | -2 | +7 | 3 |
| 4 | Lai Yucheng | Taiwan | +14 | -1 | +12 | +6 | 3 |
| 5 | Lin Hongbin | Taiwan | -7 | +15 | +13 | +8 | 3 |
| 6 | Taniguchi Yohei | Japan | +11 | +7 | -1 | -4 | 2 |
| 7 | Lee Sunah | Korea | +5 | -6 | +9 | -3 | 2 |
| 8 | Artem Kachanovsky | Ukraine | -1 | +16 | +11 | -5 | 2 |
| 9 | Wang Zhou | China | +10 | -3 | -7 | +13 | 2 |
| 10 | Zhang Xiang | Singapore | -9 | -12 | +15 | +14 | 2 |
| 11 | Gabriel Benmergui | Argentina | -6 | +14 | -8 | +12 | 2 |
| 12 | Nuttakrit Taechaamnuayvit | Thailand | -2 | +10 | -4 | -11 | 1 |
| 13 | Sekine Reiko | Japan | +16 | -2 | -5 | -9 | 1 |
| 14 | Emil Garcia | Mexico | -4 | -11 | +16 | -10 | 1 |
| 15 | Mile Gu | New Zealand | -3 | -5 | -10 | +16 | 1 |
| 16 | Anna Prokopova | Czechia | -13 | -8 | -14 | -15 | 0 |