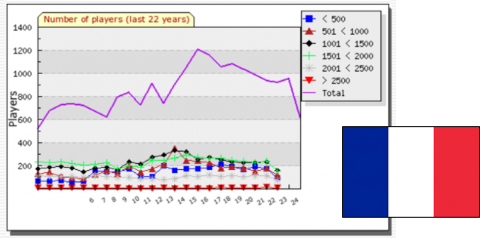 The recent news of Youth Go in France is brought to us by Chantal Gajdos. France has a large population of go players and youngsters are getting better and better both in individual and in team youth championships.
We have two main events during the year, the French Youth Championship and the Youth Go Camp. We also organize online activities and courses as part of the Fench Youth Team.
French Youth Championship (Championnat de France jeunes)
Each spring, youth of the 3 categories meet for a youth championship. In 2018 it was held in Paris. The champions were
Cyan Touzot
(U12),
Linh Vu Tu
(U16) and
Ariane Ougier
(U20).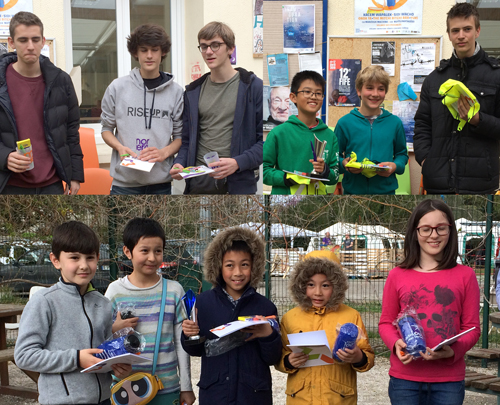 In 2019, it was in Montpellier. The champions were
Yuan Cheng Jiang
(U12),
Lexiang Sun
(U16) and
Solal Zemor
(U20).
The championships is open to every youth french licensees, including foreigners.
Youth go camp (Congrès National Jeunes)
Held during the automn holidays in the Vercors' mountains, the youth go camp is the opportunity for youth players to play and have go lessons with several teachers:
In-Seong Hwang
,
Tanguy le Calvé
,
Mathieu Delli-Zotti
,
Denis Karadaban
, …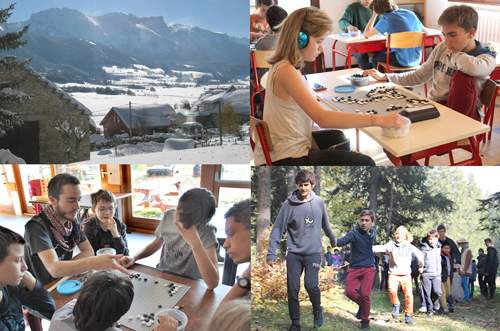 They also have sport and leasure activities: ping-pong, baby-foot, outside games. It lasts for a week and it is open to every youth who want to participate (they just have to be licensed in their country).
Go Schools
Several local clubs run go classes for young people once or weekly. This is the case of the clubs of Grenoble, Lyon, Strasbourg, Toulouse, Montpellier … Activities are also organized in schools in many cities.
French Youth Team (EFJ, Equipe de France Jeunes)
EFJ is a team of 24 youth players with 8 players in each category: U12, U16 and U20; they are coached by
Mathieu Delli-Zotti (4d)
, T
anguy le Calvé (1p)
and
Baptiste Noir (4d)
.
Youth play online games during qualifications and two sessions from September to April. Coaches comment their games and give them a lesson at the end of each session.
EYGC
Every year, several young French players participate in the European Youth Go Championships. Since 2017, one of our young players has been selected for the world youth championship.
Grenoble 2017: The championship was organized in France with the participation of more than 200 young players. Cyan Touzot qualified for the WYGC in Thailand in U12.
Kiev 2018: Solal Zemor (2nd place in U16, qualified for the WYGC in Germany), Linh Vu Tu (4th place in U16),
Moscow 2019: Linh Vu Tu ( (3nd place in U16, qualified for the WYGC) and Solal Zemor (5th place in U20).
EYGTC
Each year, France has the youth team in European Youth Go Team Championships played on KGS.
In 2018,
Denis Karadaban
was the team captain. France was 5th, with two victories against Romania and Czechia, and two defeats against Russia and Ukraine.
In 2019,
Astrid Gaultier
was the team captain. France was 2nd, with three victories against Germany, Ukraine and Romania, and one defeat against Russia.