Following the same waves as other tournaments; after a 2 year long online hiatus, the EWGC came back live in the wonderful city of Budapest on the 24th/25th of September.
The organizing team was composed of Alexandra Urban, Julia Seres and Rita Pocsai, also known as the holy trinity of Hungarian Go. With not much time on their hands and not much outside help, they managed to hold a wonderful tournament that attracted 40 players from all over Europe and even outside of it! As far and accurate as the EGF archives are, it seems to be a historical record!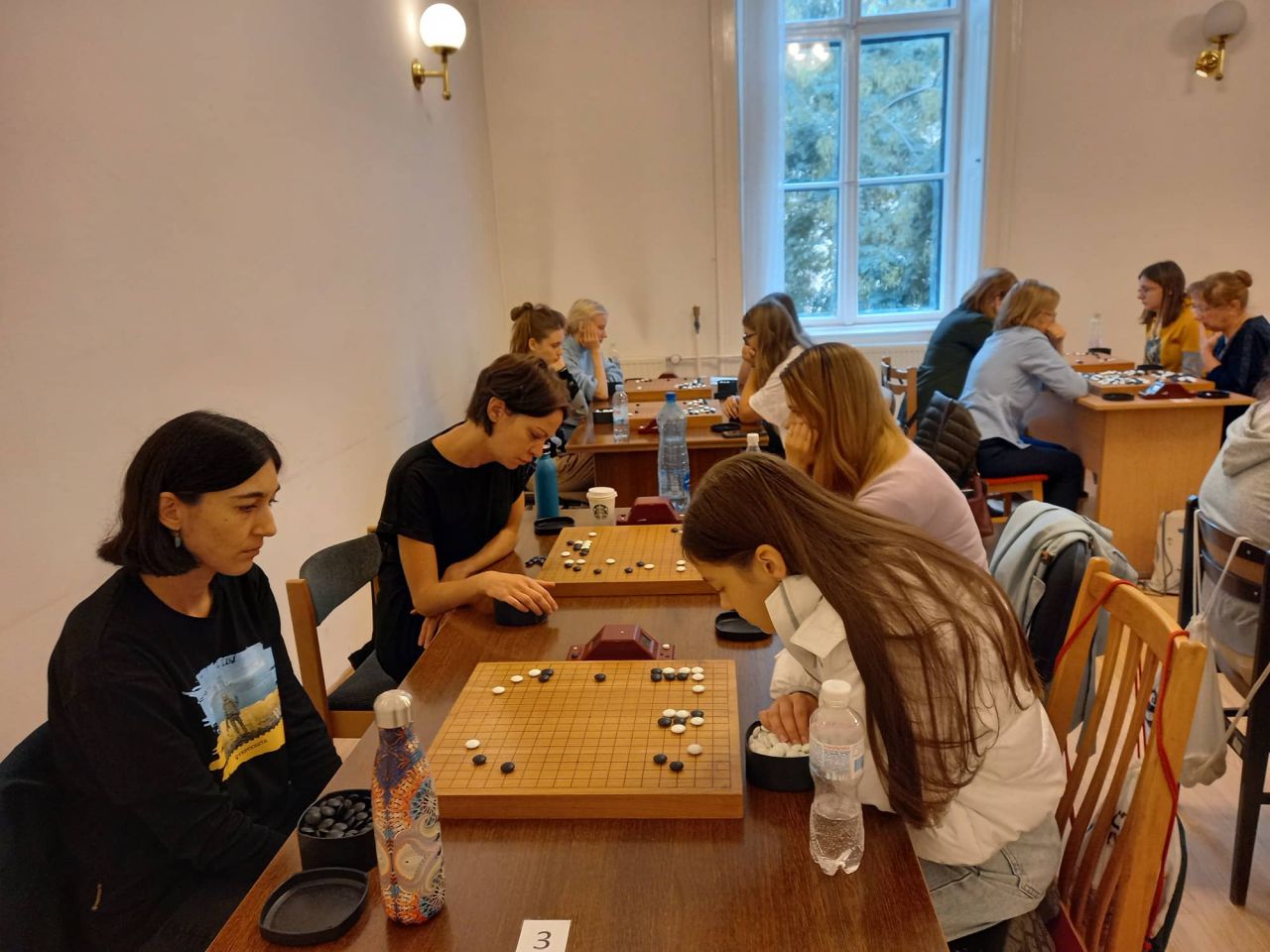 The level was high with 12 dan players, the favourite on paper was Rita Pocsai 5d who had already been European Women's Champion four times, winning in 2005 (shared) 2009, 2011 and 2015.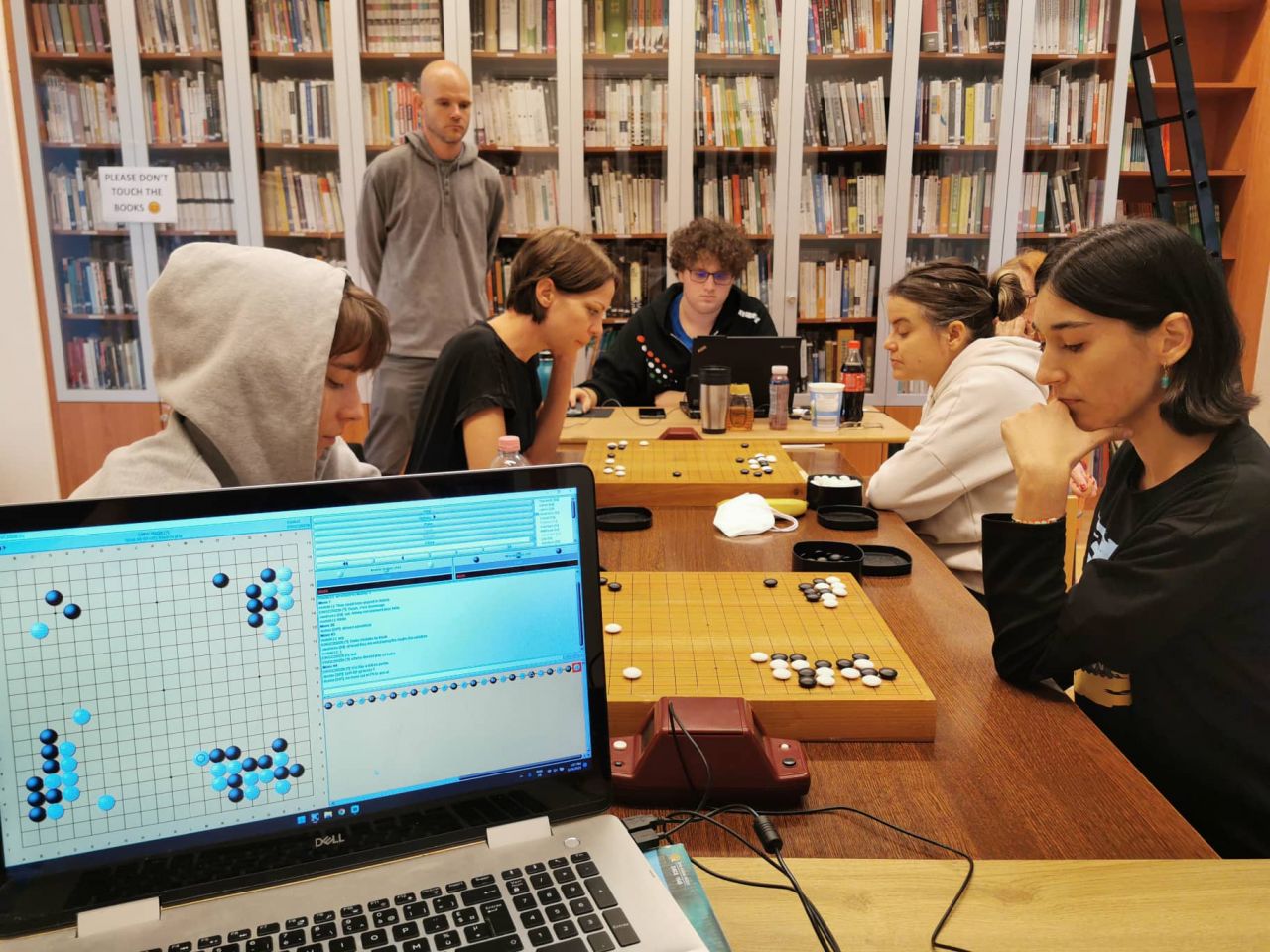 The tournament had a broadcasting room for the top 2 boards (image above), the games were broadcast on KGS as well as streamed on Twitch for visuals. We were happy to notice that we were higher in viewer numbers than the actual EGF twitch channel that was broadcasting the Confucius Cup in Dublin.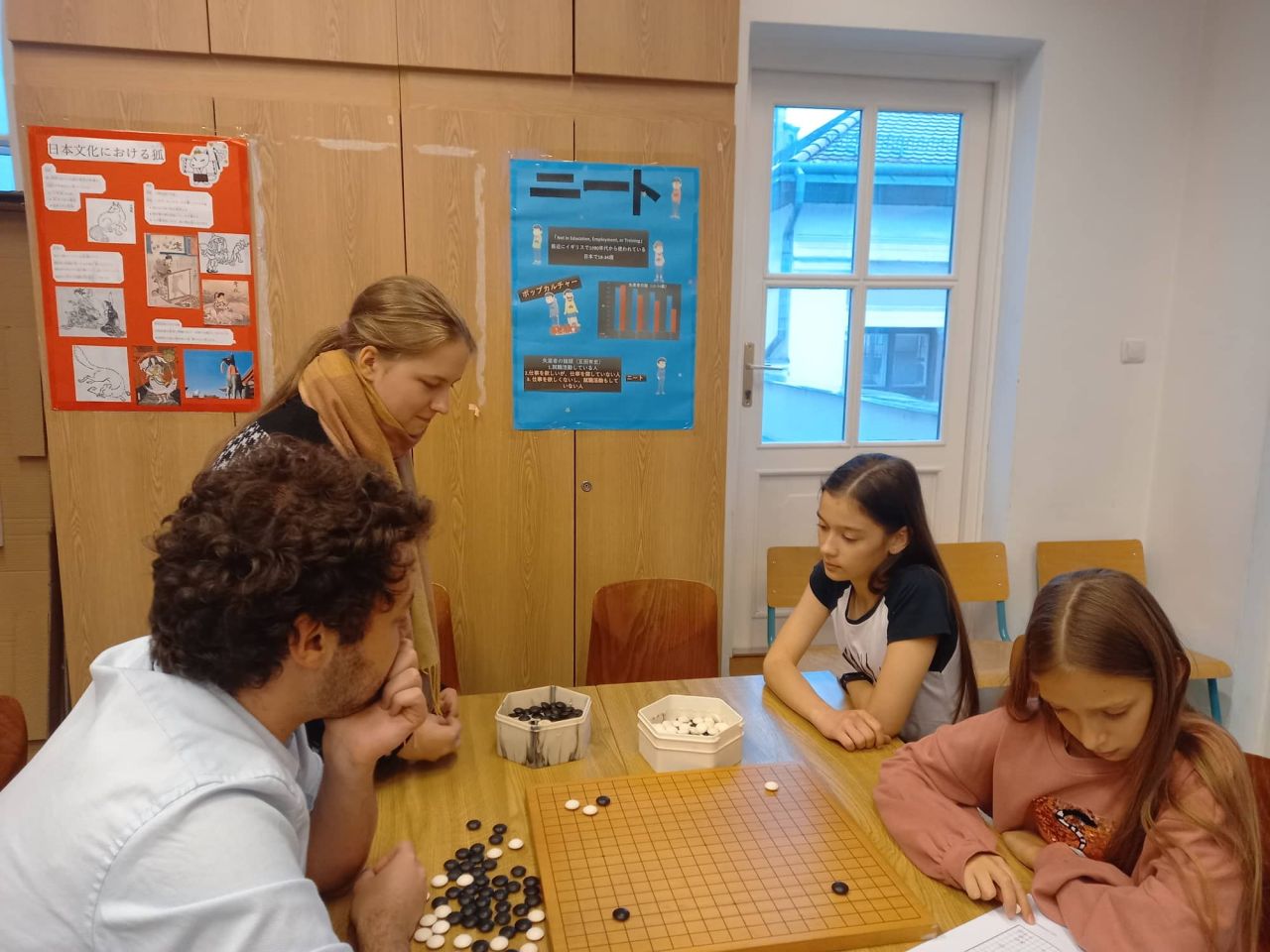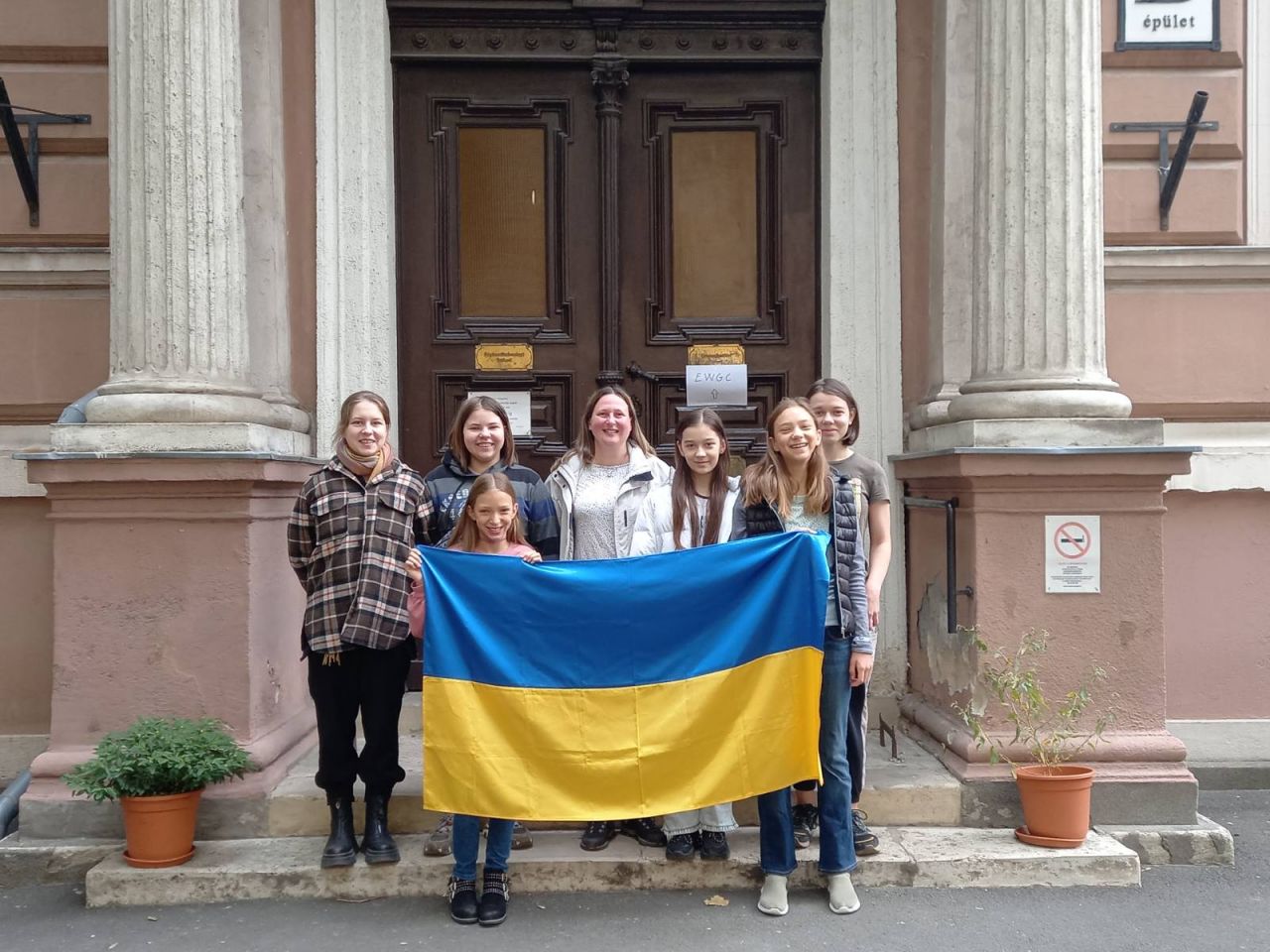 Since I have been living in Budapest for some time now, I was asked by the organizing team to be a commentator there, I happily accepted (the knife pointed at me didn't influence at all my decision). After their rounds, players were welcome to join me in the commentary room. Unfortunately the tight schedule and the strict opening and closing rules of the building didn't allow every player to get a review but we still managed a fair share!
I was actually very impressed by the young Ukrainian prodigies! I knew that Olesia Malko and Anna Melnyk are part of a nice training program in Ukraine so I expected to see some talent, but I was still impressed by their games. I also got a strong impression of Mariia Chernova 2k who won 4 out of 5 games, in the last round she got paired against Alexandra Urban 2d and it is only in yose after several mistakes that she lost by 1.5 points. Later on I got to know that she and her younger sister Vira are both studying with the same program as the others. I am really seeing a bright future for the Ukrainian youth!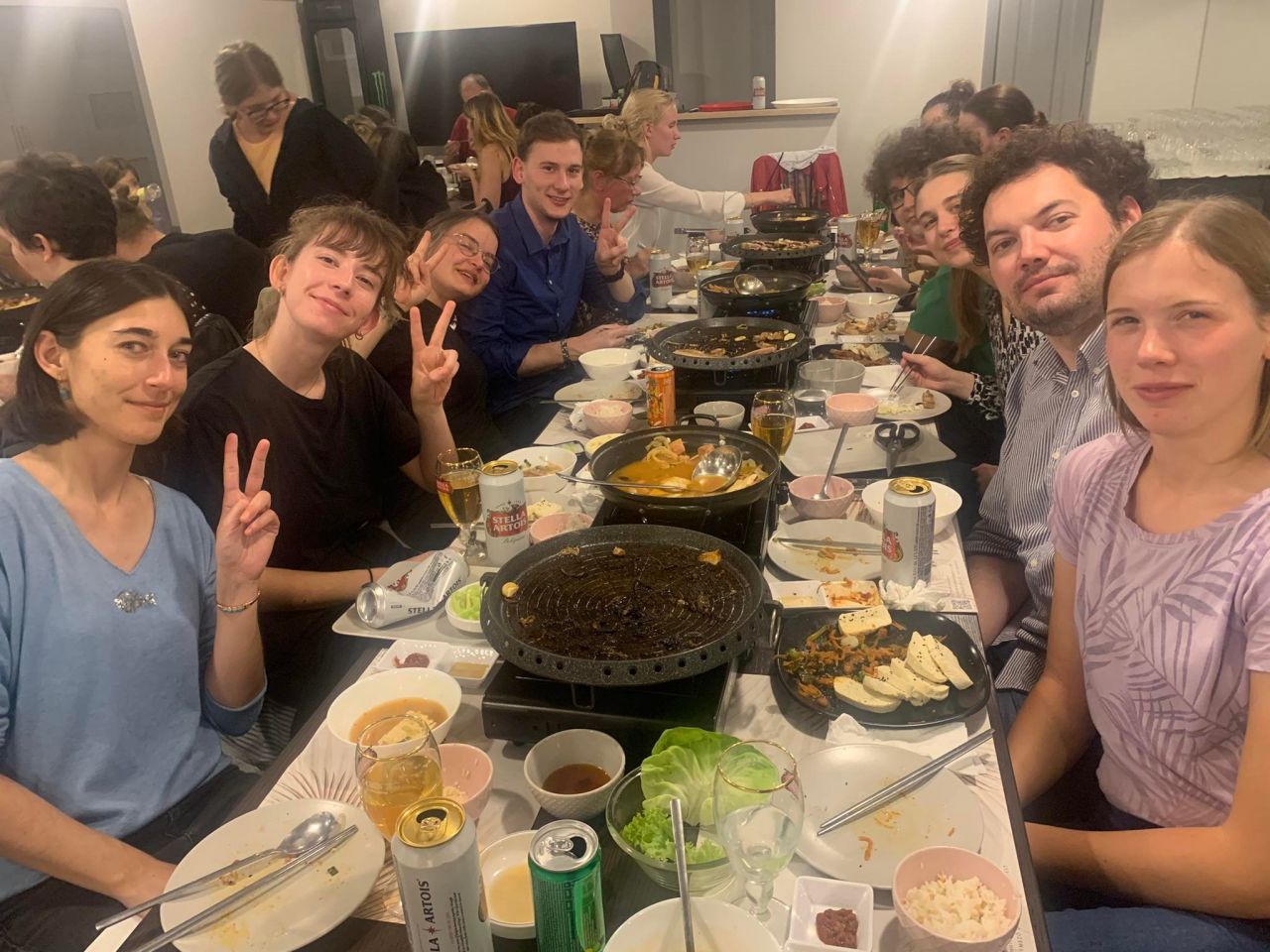 On the saturday evening, a Korean dinner was organized, the classic Korean BBQ and Kimchi Jjigae were the main dishes for everyone (vegan version as well). There was also fair share of beers and soju (a traditional Korean alcohol). I heard there were also soft drinks provided, but they were nowhere to be found. We played some traditional Korean games (Alexandra and I were in charge of teaching the players!)
It was a very nice moment both to bond with and to get to know more about the people whom you sometimes face on the goban!
All games of the top 2 boards can be found on KGS at EWGC2022 and EWGC2022b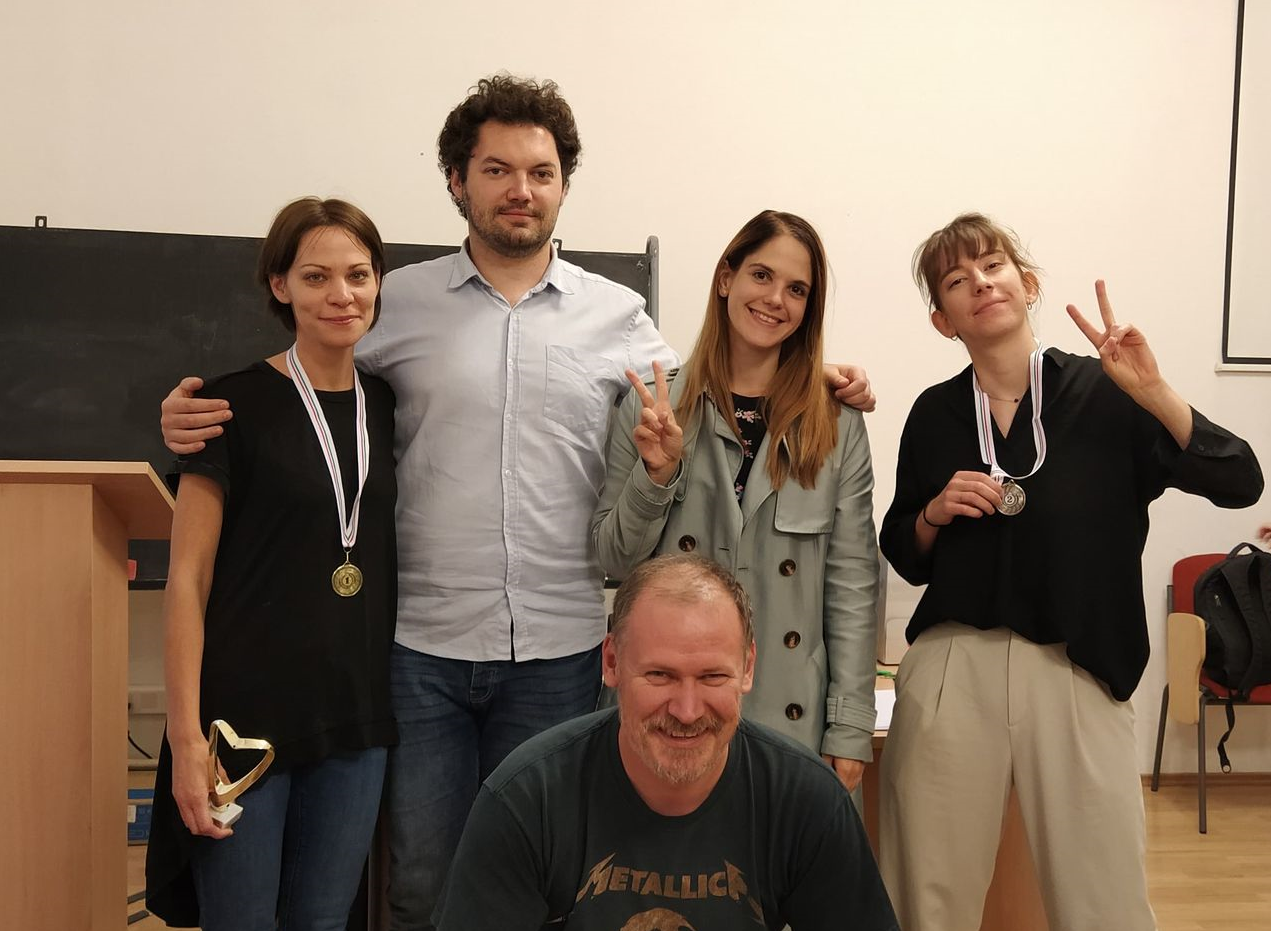 As for the final result, it almost went as expected. Even although the favorite, Rita, suffered a loss in the last round against Manja Marz. In the end Ariane, Manja and Rita all had 4 wins and it is the SOS tie-breaker rule that pulled up Rita in the first place. I heard that you may have a small interview of Rita in the next issue of the European Go Journal!
In the end I believe it was a very enjoyable tournament and I hope every player had fun! Let's hope that the next edition of the EWGC will be as enjoyable as this one in the lovely city of Strasbourg!