1st European Pro Qualification 2014
The European Go Federation is proud to announce the start of the certification of European professional Go players. It is a cooperation with CEGO our main sponsor and it was only possible thanks to their initiative and generosity.
CEGO especially set up a training school in Beijing where already 5 young European players participated, they have come back to now continue the training, both online and in a power week at Vienna, until the first two pros are selected. Find more about the training on Benjamin Teuber's Blog and on the CEGO Online Training page.
16 players started. They played 6 rounds in a double knock-out system. The first two rounds were at Strasbourg, round 3 and 4 were at Amsterdam and the last two rounds at Vienna. The first player with straight 4 wins is certified as the 1st European Go Pro at the Amsterdam tournament. Finally in Vienna all players with only one loss will get a chance to become the 2nd European Go Professional.
WBadbuk will broadcast the top games of of every round of the qualification, details of the schedule can be found on their site www.wbaduk.com/event/egf_pro/intro.asp.
Zhao Baolong and Fan Hui, both 2 dan chinese professionals, will start commenting the games about 1 hour after they start. The first round is at 9:00 so the live comments will start around 10:00 and the second round starts at 14:00 so the commenting will start at 15:00, all on WBaduk.
The Qualification Tournaments
The Results / Pairings
Click on the

-symbol to download the games!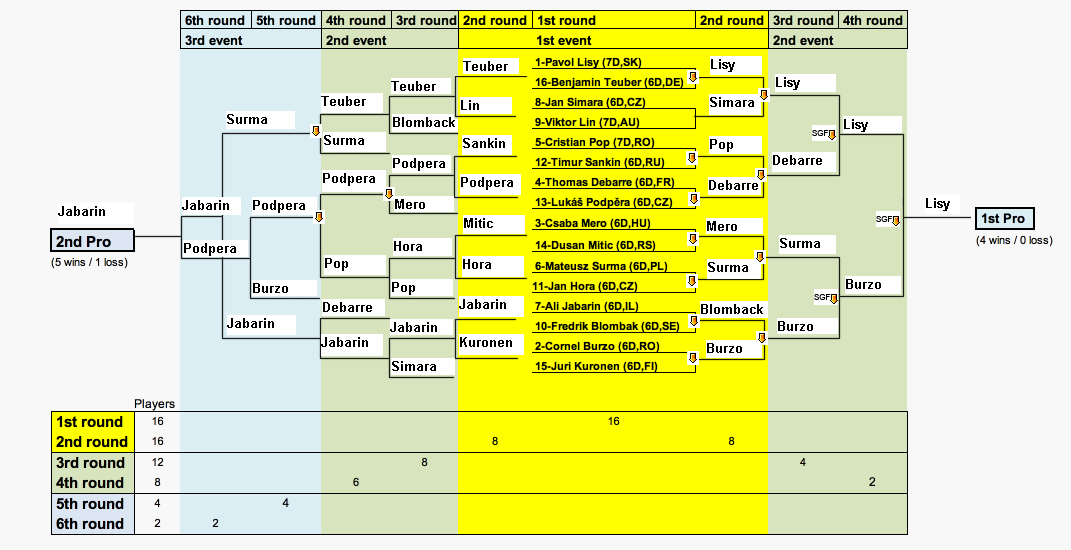 Participating Players
These are the confirmed participating players for the European Pro Qualification. Not all players have decided yet if they want to participate! Check out detailed list of the invited players bit further down.
Rules & Constitution
In the New Professionals in Europe – the qualification tournament you can find the setup of the qualification with more detailes about the selection criteria and the mode and rules of the 3 qualification tournaments. In the EGF Professional Go System Constitution you find all the details about the rights and duties of the new European go professionals.
Photos
1st European Pro Qualification