The 39th European Go Congress
22.07.1995-05.08.1995, Tuchola, Poland
The Congress was held at a forestry school in Tuchola in rural Poland; 380 attended. Its motto was "Go in Nature".
Winner was Dutch 7 dan Ms Guo Juan with 10/10. 2nd was Miyakawa Wataru (6 dan) from Paris and 3rd Sumikura Yasuyuki (7 dan) from Japan. Fourth was Christoph Gerlach (6 dan Germany), 5th Pierre Colmez (5 dan France), 6th Jef Seailles (5 dan France) and seventh Matthew Macfadyen (6 dan UK).
The weekend tournament was won by Kai Naoyuki (6 dan) from Japan.
Results
Main Tournament
Weekend Tournament
41 pairs played an event split into two groups on 30.07.1995.
Guo Juan and Rob Kok
Rafaella Giardino and Jef Seailles
Ghioc and Mateescu
Kyu Group
Hodorogea and Ivascu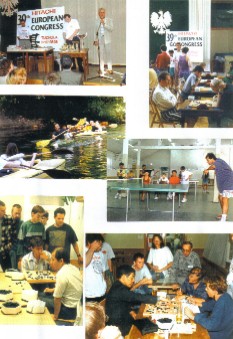 Back to European Go Congresses