The 40th European Go Congress
20.07.1996-03.08.1996, Abano Terme, Italy
500 go fans from all over Europe and the world attended the 40th European Go Congress, at a hotel in a spa town near Venice.
Winner of the Open was Guo Juan, the lady from China who now lives in Amsterdam. Second was the other seven dan, Rob van Zeijst from the Netherlands who now lives in Japan. The other positions were: On 7/10: 3. Lee Hyuk (6 dan Korea), 4. Laurent Heiser (6 dan Lux), 5. Pierre Colmez (5 dan F), 6. Pei Zhao (5 dan D), 7. Sorin Gherman (6 dan Rom), 8. Gilles van Eeden (5 dan NL); on 6/10: 9. Sumikura Yasuyuki (6 dan Jap), 10. Miyaka Wataru (6 dan Jap).
The Weekend tournament was won by the Korean from Moscow, Lee Hyuk. Second equal were Miyakawa Wataru and Pierre Colmez who both live in France.
Results
Main Tournament
Weekend Tournament
28 pairs played an event over five rounds.
Hao-Jiang Zou and Laurent Heiser
Astrid Gaultier and Julien Roubertie
Watanabe Keiko and Shima Hiroshi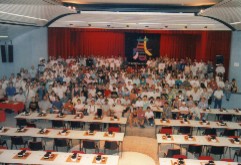 Back to European Go Congresses