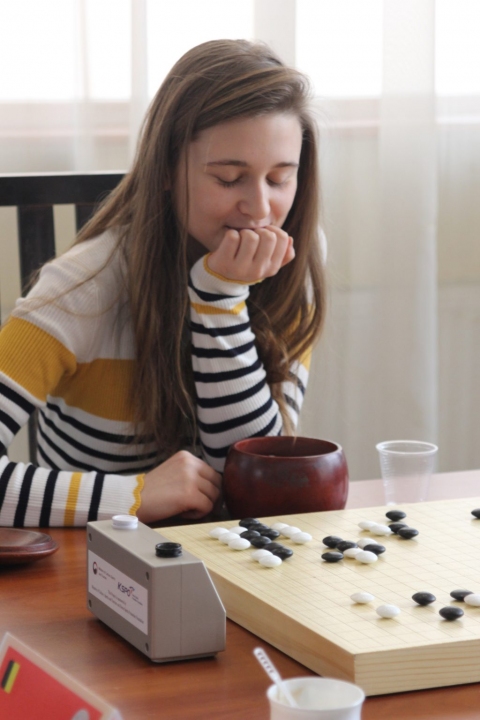 This is a beginning of a series of articles written with an idea to arise the awareness of SEYGO Project and Youth Go development in Europe. The articles will be released weekly and uploaded to the EGF website and Explore Baduk, so that you can follow them regularly. Here, we start with the interview with
Mirta Medak 2d
from Croatia, and we will follow with report of the country during the upcoming days. The interview has been prepared by
Sinan Djepov, 5d
,
https://explorebaduk.com/
Q: When did you learn Go and who was your first teacher?A:
I learned Go in 2012. Back then, there were 2 children in Croatia interested in Go, my brother and me. My first teacher was the only teacher in Croatia, Zvonko, who puts his all energy in teaching Go to children in an enthusiastic way. At that time, I also played chess on tournaments, so I started studying Go more seriously only in 2015, when I joined Yunguseng Dojang School.
Q: What was your first impression of Go when you started playing?A:
"Wow this board is four times bigger than the chess one!"
I was more eager to play chess though. My brother's improvement motivated me to continue playing Go in the very beginning.
Q: Were there many players in Croatia around you?A:
There was a tournament each two weeks, organized by Mladen, old and halfly blind man, suffering from diabetes. The number of participants doubled when my father, brother and I started playing. My first bigger tournament was EYGC 2013 in Budapest. It was more than enjoyable to see so many children and a competitive, but very friendly atmosphere.
Q: How many teachers did you have until now?A
: My first Croatian teacher Zvonko, In-Seong Hwang and EGF Academy teachers (Catalin Taranu, Alexander Dinerstein, Zhao Baolong, Viktor Lin). That would make 6.
Q: What are some of your notable results until now?A:
Right now I am holding the 3rd place in Senior Category of Croatia and the 1st place in U20 Category. I won Zagreb Open tournament 2018. I shared the 3rd place with Sinan Djepov on the first SEYGO tournament (U20) in Vatra Dornei this year.
Q: How did you feel when you won the Zagreb Open and what did it change for you?A
: A good tournament motivates me to study more. Almost as much as a very bad one. Some balance is always present, and I am trying to follow the saying of Cho Hun-Hyun's: "Don't be overjoyed by one victory nor get upset too much about one defeat."
Q: What makes Go interesting for you now?A
: Countless ways to apply the same principles in life.
Q: What are your future plans with Go?A:
My goal is to win the European Women Championship and become a high-qualified Go teacher, since there are not so many around here, but more and more children appear. I will study in JIGS this September, and after that I start with the University. Then I intend to study Go more seriously than before.
Q: You have been participating in EGF Academy a lot during last years, how did it affect your strength?A:
I improved from 2kyu (where I was stuck for quite some time) to 2dan in one year. I owe it to the Academy in two ways. Firstly, intense and regular lessons and games online improved my intuition and knowledge, which was what I lacked. More importantly, it motivated me to study. If I haven't attended the Winter Go Festival in Vatra Dornei in 2018, I might have stopped playing Go. That was the first time I met the future strongest players of Europe, not only by seeing their games and lessons, but also by getting to know their attitude towards the game. There was no better motivation than these people becoming my friends.
Q: What did EGF Academy activity meant for you?A:
EGF Academy meant my current mindset. If there wasn't EGF Academy, I doubt I would be involved in Go to this extent. Not only I improved, but I also learned how to teach and I am still learning. It means a lot to me, because I teach Go to children in few schools and in the Go club.
Q: What do you think about the new initiatives of EGF : SEYGO tour and the EYE team?A:
SEYGO Tour is a project I am involved in from the very beginning. Thanks to Catalin's enthusiasm and will, it started quite successfully in Vatra Dornei. The idea of more tournaments for youth is for sure the best one to do both; invite newcomers and to speed up the improvement of the strongest. The strongest players among youth will form the first EYE Team. A great benefit of this project is motivation for weaker and younger players, who are going to have something to aim for. I have to add that this is only the beginning. Things rarely work on the first try. The more people working on the project, the higher the possibility for it to succeed. Taking action is what is important and needed. I hope we will make the First Summer Go Camp in Zaostrog as enjoyable as the Winter one!
Q: How to promote Go among youth in your opinion?A:
Two and a half years ago, only children who played Go in Croatia were my brothers and me. Today, there are more than 50. What kind of magic happened here? It all started with chess in school, enthusiasm and faith. There have been countless attempts to promote Go in diverse occasions, from the The Days of Japan to the Library Festivals. Everybody gets to see the game, but almost nobody stays interested. This is due to preoccupied minds of grown-ups'. A child's mind is open to new things, always interested and joyful. This is why the first step in promoting Go is introducing it to children. As my parents were holding chess lessons in a primary school, they decided to show the game of Go to the participants. So they did. After a while, more Go players than chess players appeared. This gave hope and motivation to more players who did the same in other schools and libraries. Now kids know how to play Go, and when it's raining outside they come to school and enjoy it for few hours… but, one problem remained. They still prefer playing football, dancing or computer games. What lacked was the motivation. Easy tsumego. One and only solution: tournaments. Usually it is not as easy as it seems at first glance, so we spent some time reading and being patient. Money and people were needed (the latter still is). Fortunately, Ministry of Science and Education of Croatia has funded many projects we have launched, all with the main goal: to present Go as a game which teaches children how to think. Writing to Korea has helped a great deal as well. They are happy to see so many kids playing Baduk, therefore their Ministry has donated boards, stones, clocks and books for youth. We're all set for organizing tournaments! But wait, what if only the winners become and remain the motivated ones? What to do with the beginners? The answer lays in a very incorrect statement: "Everybody is a winner." Tournament system made it more logical. Similar to Grand Prix, there is a number of stages of The Inter-school League during the school-year. Every month one of the schools is a host of each stage. One doesn't play only for himself, but he collects points for his school (distributed like GP points). Consequently, the more children from the particular school take part, the greater the chance that this school becomes the champion, no matter if they lose or win a game! This way kids are fighting for their team and their motivation keeps rising. The beginners are privileged in a way that there are always awards and points for first 3 places of the 20-kyu ranked. It is important to play as many games as possible, but also not to exaggerate. 25 minutes thinking time happens to be adequate for children, as well as playing one game after another, with small breaks. This way they never get bored and can show most of what they've learned! In January last year the very first stage of the first League was held. 8 children participated. On the last tournament, few weeks ago, there were 40 participants. On the final one, which is going to be held next Sunday, we are expecting more than 50 children. To conclude with, it is always meaningful to read the variation many times from many perspectives, in order to solve the problem. In this situation, the most significant point of view is the youth's one. To see the world through their eyes means to make learning fun, competitional and constant. Zaostrog Camp in July and other SEYGO events are meant to provide this to European youth.
Q: What would you want us to change for better on the European Go Youth scene?A:
If more people take action locally, it would be much easier to make very well-organized tournaments for youth in each part of Europe. There are thousands of witty kids waiting out there for you to present the game of Go.
Nevertheless, the situation can only get better. The only important thing is to speak up and put some effort in teaching the youngsters. Yet, they are the future.
This interview has been conducted by
Sinan Djepov, 5d:
https://explorebaduk.com/2019/06/02/youth-development-in-croatia-interview-with-mirta-medak/