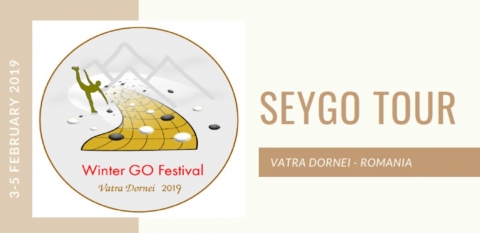 The first stage of the first year of SEYGO Tour took place in Vatra Dornei, Romania. It had the special significance of being the foundation stone of the project.
It was very helpful to have SEYGO as a part of the bigger and already popular Winter Go Festival. In the past years, the first three days of the festival hosted an important Romanian National youth competition called FRGO Juniors. It is why it was natural to preserve the old format and just switch the former youth event with the International SEYGO.
It felt like fitting the right piece into a puzzle, because our festival became even more international than before, the strength of the festival allowed for decent prizes, the flexibility of the new SEYGO playing system was proved when our Chinese youth guests could play in SEYGO without affecting the overall tour results, meant for European players only.
The results of the Open Tournament have been published in the European Go Database:
SEYGO Tour - Stage 1, Vatra Dornei in EGD
The results of the Knock-Out phases for U20, U16, U12 sections with games in sgf are available as well:
https://www.eurogofed.org/seygo/stage1.html
Traditionally the festival had already a solid youth base from Romania but with the increase provided by our friends from Croatia, Ukraine and very special guests from China, the number of players went up to as much as 120 people.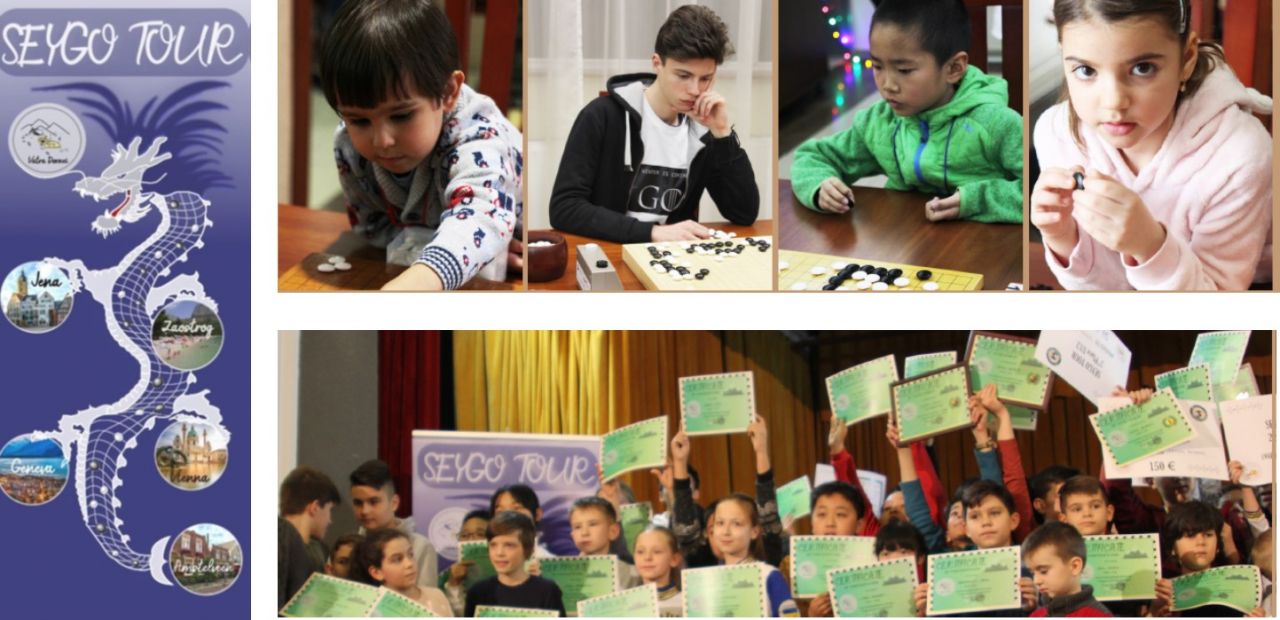 SEYGO Dragon (left), players with diplomas
A drawback of having the event organized in a beautiful but remote location like Vatra Dornei is the long trip to reach the place. Having a lot of side events and additional tournaments like VaDo Cup to participate in made this trip worth the effort. The timing of the visit of a large group of players from China could not be better, a Romanian vs. China as well as an EGF Academy vs. China match were organized, adding extra flavor.
After finishing their SEYGO matches youth had one day to rest and enjoy the beautiful scenery of Vatra Dornei or join the trip to visit famous monasteries from Bucovina area. The last part of the festival hosted the traditional VaDo Cup event that reached its 3rd edition. Most of the youth that came for SEYGO played in the Vado Cup as well.
Our weather satellite didn't obey the commands this year and the usual carpet of snow was missing from the town, but the skyslope only 50 m away from Calimani Hotel told a different story. Lots of participants managed to escape the crowded Go schedule and enjoy the large variety of winter sports available.
The best part of it all was to see youth crossing language barriers in their eagerness to make friends from all around the world. If we are to measure the success of the event in friendship, then it truly was an exceptional accomplishment.
Finally, there is a nice video produced by
Natasa Bosnjak
:
https://vimeo.com/327033280